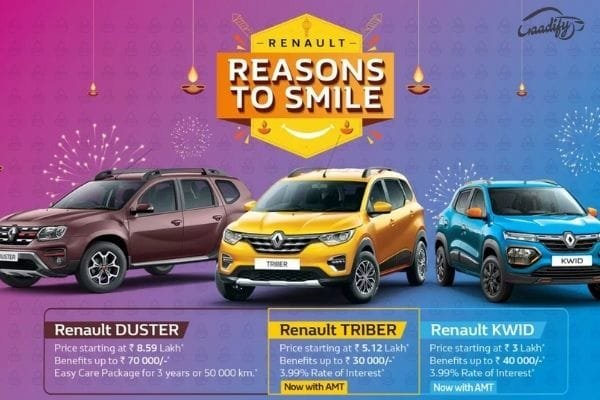 Save Up To Rs 70,000 On Renault Duster, Kwid And Triber
Like every other carmaker, Renault is also offering various discounts and benefits on its entire portfolio that comprises three models: Kwid, Triber, and Duster. Here is a comprehensive look at the individual offers on these Renault cars:-
October 2020: Offers on Renault cars
| | | | | |
| --- | --- | --- | --- | --- |
| Model | Cash Discounts | Exchange Bonus | Corporate Discount OR Rural offers | Loyalty Bonus |
| Kwid | Up to Rs. 15,000 | Up to Rs 15,000 | Up to Rs. 9,000 (Corporate) / Rs. 5,000 (Rural) | Up to Rs. 10,000 |
| Triber | – | Rs. 20,000 | Up to Rs. 9,000 (Corporate) / Rs. 4,000 (Rural) | Up to Rs. 10,000 |
| Duster (1.5L model) | Up To Rs 25,000 | Up To Rs 25,000 | Up To Rs 30,000 (Corporate) / Up To Rs 15,000 (Rural) | Up To Rs 20,000 |
| Duster (1.3L Turbocharged model) | | | Up To Rs 30,000 | Up To Rs 20,000 |
Note:-
It is important to note that a particular buyer would be eligible for any one of the corporate or rural discount.
Loyalty bonuses can either be availed in the form of an exchange bonus or they are provided to buyers as a cash discount if they buy another Renault model.
All the offers mentioned here are valid till 31st October 2020 only.
Additional Offers:-
Renault Kwid
Only a loyalty benefit of Rs 10,000 is available on the STD & RXE 0.8L variants of Renault Kwid.
Buyers are also provided with the convenience of financing (through Renault Finance) their purchase at a special interest rate of 3.99% which will be calculated on a loan amount of Rs 2.2 Lakh for a tenure of 12 months with no processing fees on booking of any variant of Kwid hatchback between 6th and 16th October 2020 with Renault Finance.
The interest rate may vary based on the loan amount and tenure.
The cash benefit is not applicable to the newly launched NEOTECH Editions.
Renault Triber
The Triber RXE variant is being offered with only a loyalty benefit of Rs 10,000.
Like the Kwid, the Triber is also getting the easy finance scheme through Renault Finance at a special rate of 3.99% which will be calculated on a loan amount of Rs 3.86 lakh calculated for the maximum tenure of 12 months. The rate of interest is subject to the loan amount and tenure opted for.
State, where Renault Finance services are not available then the customers are entitled to get an additional exchange benefit of Rs 5,000.
The French maker will not charge any processing fee on the bookings of Renault Triber (any variant) between 6th and 16th October 2020 if you are opting for Renault Finance.
Renault Duster
The RXE variant Of Duster SUV is only entitled to the loyalty discount of Rs 20 000 and cash benefit of Rs 50 000. No other offer or benefit will apply to the particular variant.
Renault is also offering an Easy Care Package of 3 years or 50,000 km with the 1.3L turbocharged model. However, the offer is only available for the existing DUSTER owners (any variant) who is willing to buy an additional DUSTER 1.3L Turbo or exchanging their current DUSTER (any variant) for a DUSTER 1.3L Turbocharged model.