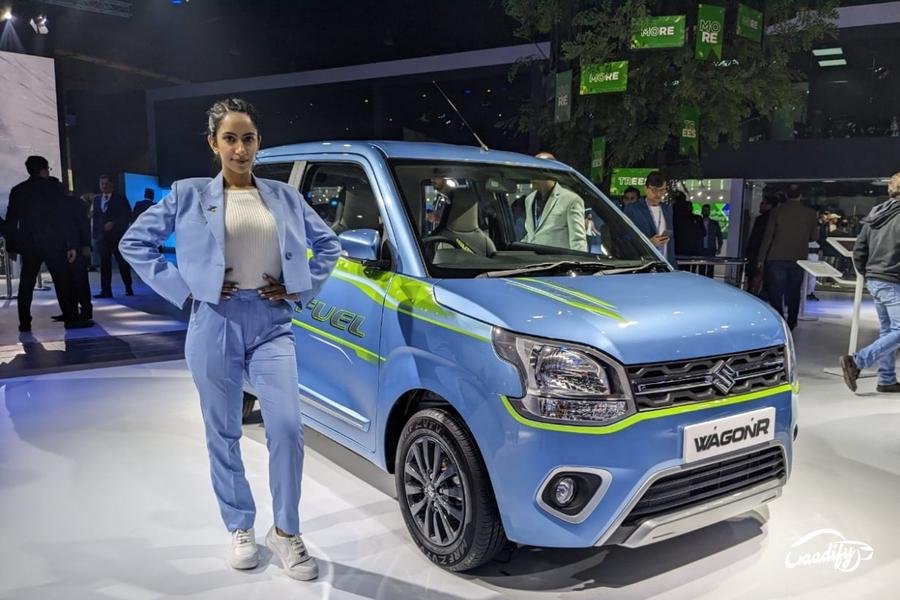 Maruti WagonR With E85 Flex Fuel Engine Showcased At Auto Expo 2023
Maruti Suzuki WagonR with E85 flex-fuel engine showcased at the Auto Expo 2023.
It can run on 20%-85% ethanol blending.
After tons of reports and speculations, Maruti Suzuki has now finally showcased a prototype version of the WagonR equipped with a flex-fuel engine compatible with up to 85 per cent ethanol blended petrol (E85 fuel). Maruti states that they are developing flex-fuel vehicles to run on 20%-85% ethanol blending. They offer similar performance as the regular engines. The brand is expected to introduce E20-compliant flex-fuel engines by April this year.
Also Read: Maruti Suzuki Unveils eVX Electric SUV Concept At Auto Expo 2023
For those who aren't aware, the flex-fuels are a blend of petrol and ethanol. The latter is a starch-based fuel derived from corn grain, crop residues, wood chips, or sugar cane. Here are some benefits of the ethanol blend fuel: –
It is a renewable fuel that is considerably cheaper than petrol.
It oxygenates the fuel it is mixed with, thus controlling air pollution.
Since ethanol has a higher octane number than gasoline, it offers better acceleration performance when operating on higher ethanol blends. However, it is worth noting that flex-fuel offers less fuel economy when compared to petrol (depending on the blend percentage). This is due to the lower energy content in ethanol.
Furthermore, the wide adoption of flex-fuel vehicles will decrease our dependency on imported crude oil. It will also boost agriculture, thus increasing employment, especially in rural areas.
Also Read: