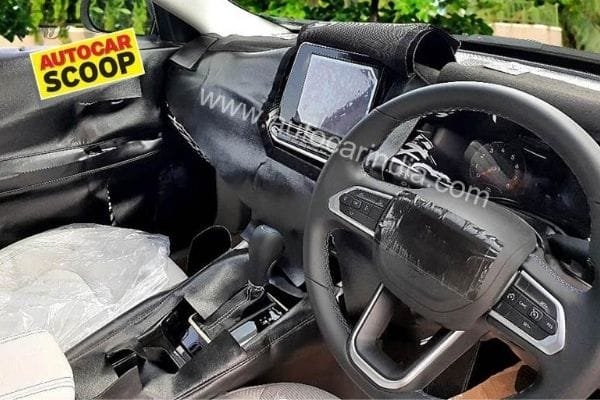 Here Is How The Jeep Compass Facelift's Interior Look Like
The Jeep Compass launched in 2017, has seen a good reception from global markets. The entry-level Jeep has achieved some great milestones in European markets as well as in newer markets like Brazil and India. Jeep announced a global mid-life facelift to the compass in the early days of June. Since then, the testing images have been surfacing over the internet from almost all the major markets. Quite recently, the interior of the face-lifted Compass made it to the news.
2020 Jeep Compass Facelift: What's new?
The interiors
First of all, you cannot help but notice the new touchscreen infotainment system. We expect this unit is the latest UConnect5 infotainment system. The screen size is expected to be around 10.25 inches, which is quite an update after the 8.4 inches system which is currently seen. The UConnect 5 infotainment system comes with Amazon Alexa compatibility, support for wireless Apple CarPlay, and also Android Auto connectivity.
The gloss black buttons to control the infotainment system are housed below the screen. The climate control panel is also a newly laid out one.
The steering wheel is also new. It is expected to be seen in other offerings from this carmaker as well.
The Exterior and Mechanicals
There have been cosmetic reworks on the outside, with a dominant front grille, changes in the front and rear bumper, and reprofiled headlamps with minor tweaks in the tail lamps. The car pretty much retains the major design profile and its character and we can't really complain about Jeep's timeless signature styling.
The car will be pretty much the same mechanically with some minor tweaks in the chassis and suspension setup.
Author's take
The Jeep's intention with this facelift comes across as polishing rather than reworking. And it is pretty understandable and in fact, expected with a strong offering like the Compass.
Without stealing the car's character they have managed to roll out a more up-to-date product. The car on sale in the market currently is in no sense lagging or missing on something in the tough competition but small reworks are necessary to keep up in today's times.