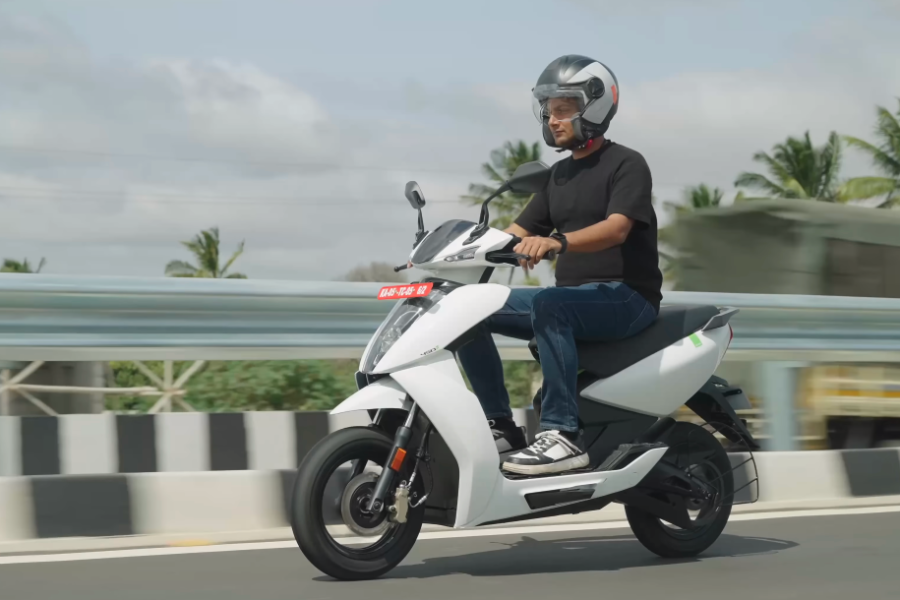 Ather 450S Electric Scooter – Price, Range, Features and More
Ather has recently launched its most affordable electric scooter, the 450S, at Rs 1,29,949 (ex-showroom Delhi). Here's a complete rundown of all the vital points you should know about this latest electric offering.
| | |
| --- | --- |
| City | Ather 450S Price |
| Pune | Rs 1,30,157 |
| Mumbai | Rs 130,161 |
| Bangalore | Rs 1,29,999 |
| Delhi | Rs 1,29,949 |
| Hyderabad | Rs 1,29,844 |
| Chennai | Rs 1,29,949 |
| Ahmedabad | Rs 1,10,054 |
| Kochi | Rs 1,30,264 |
Ather 450S Ex-showroom Price (including FAME II and state subsidies)
Ather has equipped the new 450S with a 2.9 kWh capacity battery that brags a range of 115 km on a full charge under Indian Driving Conditions (IDC). 
For propulsion duties, it gets a PMS motor rated at 5.4kW and 22Nm, letting the e-scoter complete the 0-40 kmph run in just 3.9 seconds and a declared top speed of 90 kmph. 
The 450S is also compatible with Ather Grid's fast chargers, offering charging speeds of up to 1.5 km per min.
Design-wise, the Ather 450S looks similar to its elder sibling, the 450X, featuring sleek & sporty body panels, with key highlights including an apron-mounted LED headlight, flat floorboard which extends on either side to act as pillion footrests, tapered single-piece seat and a sleek LED tail light with integrated turn signals.
Regarding features, the Ather 450S gets a non-touchscreen 7-inch LCD display, turn-by-turn navigation support, reverse mode switch, three riding modes (Smart Eco, Ride, and Sport), auto turn indicator off, side stand indicator, FallSafe, park assist, Emergency Stop Signal and auto-hold functions.
The FallSafe function turns off the motor and triggers the indicators in the case of a fall. On the other hand, the Emergency Stop Signal causes the brake lights to blink in case of sudden braking at or over 50 kmph speed.
It also gets a coasting regen function which initiates regenerative braking at cruising speeds to juice up the battery pack. Interestingly, the regen intensity automatically changes depending on the vehicle speed, thus enhancing its efficiency.
Ather 450X now available with two battery pack options
Ather has now also provided the range-topping 450X with two battery pack options: 2.9kWh and 3.7kWh.
The 450X with a 2.9kWh battery pack claims an IDC range of 111km, while the 3.7kWh variant offers a claimed range of 150km.
Deliveries of the new 2.9kWh Ather 450X will commence later this month, while the roll-out of the 3.7kWh version will begin in October.
| | | |
| --- | --- | --- |
| City | 450X with 2.9kWh battery | 450X with 3.7kWh battery |
| Pune | Rs 1,38,157 | Rs 1,45,078 |
| Mumbai | Rs 1,38,162 | Rs 1,45,083 |
| Bangalore | Rs 1,38,000 | Rs 1,44,921 |
| Delhi | Rs 1,37,950 | Rs 1,44,871 |
| Hyderabad | Rs 1,37,845 | Rs 1,44,766 |
| Chennai | Rs 1,37,950 | Rs 1,44,871 |
| Ahmedabad | Rs 1,18,055 | Rs 1,24,976 |
| Kochi | Rs 1,38,265 | Rs 1,45,186 |
Ather 450X Ex-showroom Price (including FAME II and state subsidies)