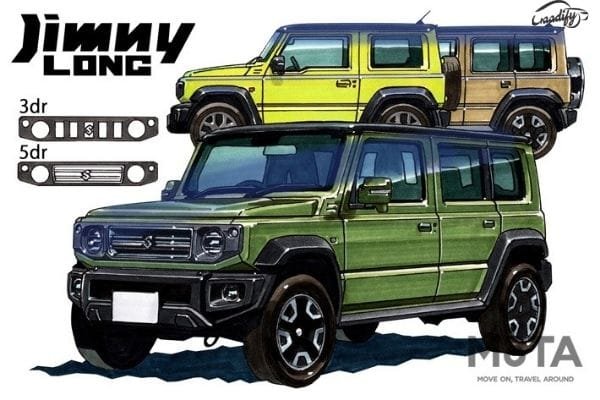 5-Door Maruti Suzuki Jimny Likely To Be Launched After 2022; Could Get A Turbocharged Petrol Engine
Since it was showcased at the 2020 Auto Expo, Suzuki Jimny off-roader created a hype of its launch in the Indian market, albeit in a long-wheelbase 5-door avatar instead of the 3-door version shown at the expo. Though the brand has already started testing its long-wheelbase version overseas, there are still no official words from Maruti Suzuki regarding its India launch. The Indo-Japanese brand is constantly stating that they are evaluating the feasibility of Jimny for the Indian market. However, a Japanese media report has claimed that the 5-door Jimny is expected to appear after 2022.
Currently, Suzuki's highest priority is to respond the Jimny's ongoing global demand. And when the production situation will settle down a little more, the brand will consider launching the LWB Jimny. Starting the production of Jimny in India is also a part of meeting the global demand. Currently, Suzuki exports Jimny from India in the Middle East, African, and Central & South American markets.
The reports also state that the 5-door Jimny will be based on the Jimny Sierra, which was also showcased at the Indian Auto Expo last year. With a similar height (1,730mm) and width (1,645mm) to the 3-door model, its wheelbase will be extended by about 300mm that will create extra room for the passengers as well as for the cargo compartment. With this, the LWB Jimny will measure 3,850mm in length. The 5-door Jimny is reported to weigh around 1,190 kilograms that are 100kg more than its 3-door model. Earlier, a leaked document also confirmed similar dimensional figures.
While it is not official, the 5-door Jimny is likely to be powered by a 1.5-liter k15B petrol engine. However, to compensate for the added weight, Suzuki could also offer a turbocharger along with a mild-hybrid system with an S energy charge. Gearbox choices will include both manual and an automatic unit. It will be offered with both 2WD and 4WD systems.
Considering its huge demand among Indian buyers, MSIL could certainly bring the Jimny to our shore but you might have to wait for at least a year. On its arrival, it will battle it out with the Mahindra Thar and the upcoming BS6 Force Gurkha.