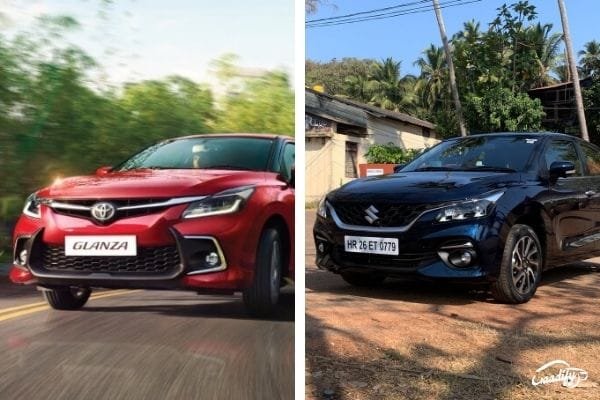 2022 Maruti Baleno Vs Toyota Glanza Facelift: Key Differences
The Maruti Suzuki Baleno is the flagship hatchback of the company. Its recently launched facelifted version has crossed the 50,000 bookings mark within a month of its arrival. Safe to say the upgrade is well received! And with the rollout of the 2022 Maruti Baleno, its sibling rival Toyota Glanza also witnessed similar rework. However, this time around, the facelifted Glanza truly got some prominent changes. Here have a look at the key differences between these two premium cars:-
2022 Maruti Baleno Vs Toyota Glanza
1. Exterior – The main disparities start and end here
Built on the same platform and with the same amount of love, only on the exterior is where the differences lie clear. Both hatchbacks are dimensionally equal. However, the Glanza sports a more distinguishable front bumper with a sleeker grille and a chrome line running across it, whereas the Baleno offers the same flat but this time a more defined front bumper with a wider & larger grille.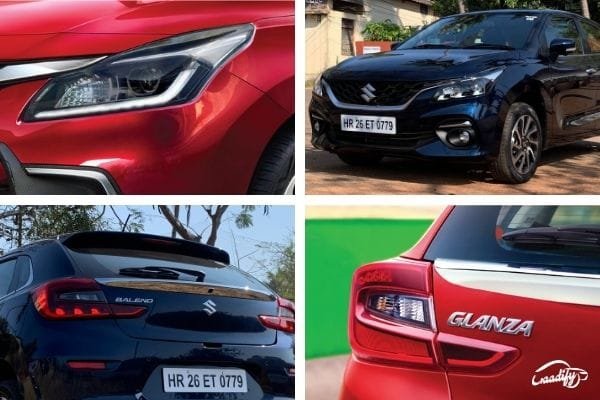 Both offer an LED projector headlamp and LED tail lamps, but the Baleno sports the new signature dots in their DRLs and taillamps. On the other hand, the facelifted Glanza has kept it more subtle and used a continuous single LED strip for both the DRLs and tail lamps.
Another notable difference between the two siblings is the alloy wheel design. While the Glanza has an 8-spoke design, the Baleno sports five V-shaped spoke design.
Looks are subject to individual preference, so we are not pinning any favorites, but your best bet for deciding between the two should lie on which look suits you most!
Also Read: 2022 Maruti Baleno Vs Hyundai i20 Vs Tata Altroz Vs VW Polo Vs Honda Jazz: Spec, Price and Features Comparison
2. Interior
Maruti Suzuki went all out with the interior this time around. Both the cars sport a much more refined interior, with the Glanza offering a much richer dual-tone black-&-beige colour theme, the Baleno gets black-blue shade.
Apart from the visuals, both the cars offer host of segment-first features like a 360-degree camera, a heads-up display (HUD), segment's largest 9-inch infotainment system with connected car tech, Arkamys tuned sound system, and much more.
3. Standard Warranty Package and Price
Maruti Suzuki retails the 2022 Baleno from Rs 6.35 lakh to Rs 9.49 lakh, while the Toyota Glanza is priced between Rs 6.39 lakh to Rs 9.69 lakh, making it up to Rs 20,000 more expensive than its donor model. For this added premium, you get a longer standard warranty of 3 years/1,00,000km, compared to the Baleno's 2 years/40,000km.
Also Read: 2022 Toyota Glanza: Which Variant You Should Buy?
Conclusion
Both these two cars are so identical that they are two peas of the same pod. Picking a clear favorite would again be subject to preference, whether it's the better looks and longer standard warranty of the new Glanza, or the strong after-sales service network of the Maruti Suzuki. Either way, the choice is tough, so we recommend you a thorough test drive of both before picking your preferred one!