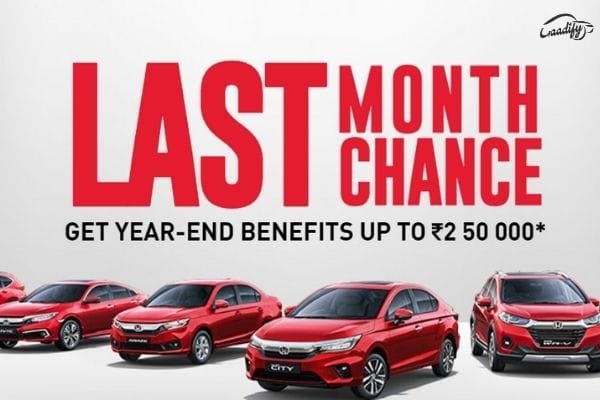 Year End Offers: Save Up To Rs 2.50 Lakh On Honda Cars
With the end of the festive offers, various brands have again rolled out several discount schemes on most of their models to clear old inventory. This is because the year 2020's draw is nearby, and this period is considered as faint for the auto industry as most of the customers prefer to buy a new car in the new year. Hence, to get maximum attention from the buyers, Honda Cars India has now come out with benefits for all its models, except the 4th-gen City and facelifted CR-V.
Model
Variants
Cash Discount
Exchange Bonus
Free Extended Warranty (4th & 5th Year)
Maximum Savings
Honda Amaze
All Petrol
Rs 15,000
Rs 10,000
Available (Worth Rs 12,000)
Up to Rs 37,000
All Diesel
Rs 10,000
Up to Rs 37,000
Special Edition
Rs 7,000 (if you don't exchange your old/current car)
Rs 15,000
NA
Up to Rs 15,000
Exclusive Edition
Rs 12,000
Rs 15,000
NA
Up to Rs 27,000
Honda Jazz
All
Rs 25,000
Rs 15,000
NA
Up to Rs 40,000
Honda WR-V
All
Rs 25,000
Rs 15,000
NA
Up to Rs 40,000
Exclusive Edition
Rs 10,000
Rs 15,000
NA
Up to Rs 25,000
Honda City (5th gen)
All
NA
Rs 30,000
NA
Up to Rs 30,000
Honda Civic
All Petrol
Rs 1 lakh
NA
NA
Up to Rs 1 lakh
All Diesel
Rs 2.50 lakh
NA
NA
Up to Rs 2.50 lakh
Note:
All offers are valid until 31st December 2020. The offer prices may vary from city to city and as per variant choice and availability of stock.
Apart from the above-mentioned discount schemes, the brand is also offering additional loyalty and exchange benefits of Rs 6,000 & Rs 10,000 respectively for existing Honda customers.
Selected corporate employees can also get a special corporate discount.
All-New Honda City CVT Review –