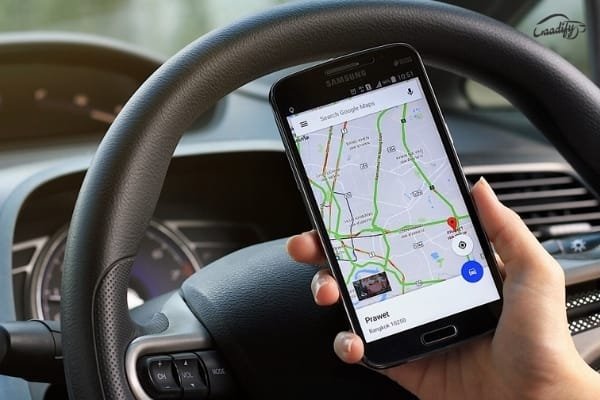 Updated Google Map Will Help You To Save Fuel
At its annual I/O developer's conference, Google has recently revealed details about the upcoming Android 12 OS that will advance the usability of android smartphones. However, improvements are not restricted to software only, but many features will also see enhancements, including the Google Maps that will soon get more detailed street maps, expansion to the existing live view feature, and more reliable navigational routes.
Here are the details of all the improvements google maps are going to get: –
1. Better Navigation

With the latest developments and advanced machine learning, Google Maps will now show you routes that will require minimum hard-braking, which will eventually lead to saving more fuel. It will also indicate the amount of reduced CO2 emission compared to the fastest route.
Also Read: Android 12 To Get Digital Car Key Feature To Unlock & Start Your Car
2. Detailed Street Maps
Google will now provide more detailed street maps so that pedestrians can plan their routes in a better way. For this, google maps will now show sidewalks, crosswalks, pedestrian crossing, island, and road width, etc. This will also help people with some kind of temporary/permanent disabilities.
This feature will be rolled out in 50 new cities, including Berlin, São Paulo, and Seattle among others, by the end of 2021.
3. Improved Personalisation
To improve the user experience, Google Maps will customize the route according to the user's preferences and will highlight the most relevant information. For instance, Google will now more prominently show the breakfast places & coffee shops in the morning, and dinner places at night. It will also highlight the spots/places you have been to or usually visits. And in the case of a new city, the app will point up the local tourist places so you can consider visiting them.
Also Read: 2021 Hyundai Verna Gets Wireless Apple Carplay And Android Auto Smartphone Connectivity
4. Live View

Using the AR tech, the live view feature will now show more complex details like virtual street signs, landmark marking, indoor navigations for some popular places like railway stations, shopping malls, and airports. It will now also be used to explore the shops & restaurants nearby you. In addition, it will show their ratings, reviews, and the crowd status around them.
Google will introduce these updates in phases. However, we are not sure that which of these features will be available for Indian users. But the fuel efficiency & Area Busyness features are likely to be released globally.