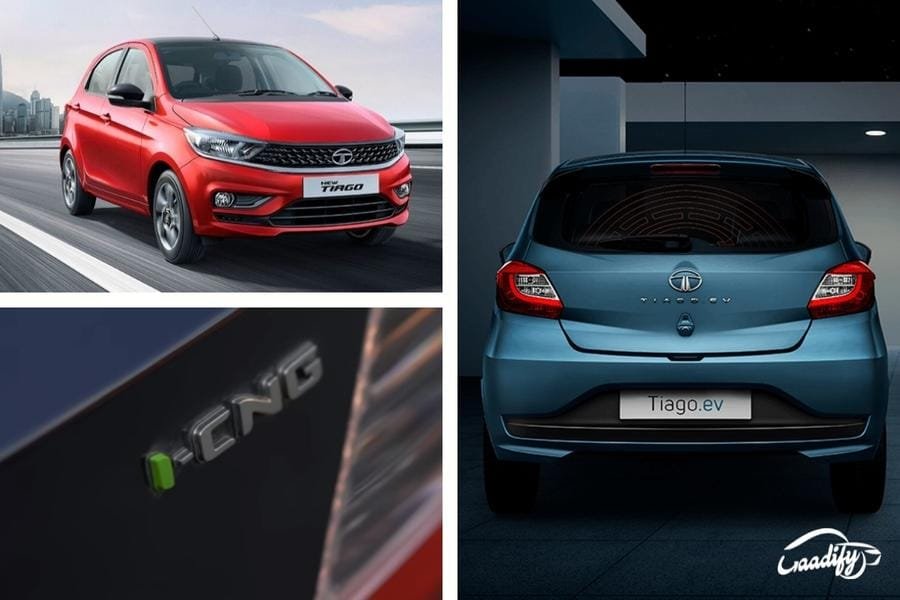 Tata Tiago EV vs Petrol vs CNG: Which Car You Should Buy?
Tata Motors has recently launched the electric version of the Tiago that ranges between Rs 8.49 lakh to Rs 11.79 lakh (ex-showroom), making it India's most affordable EV. With this, the compact hatch is now available in a total of three powertrain options: petrol, CNG, and electric, thus offering a wide range to meet the needs of different buyers. Following is a detailed on-paper comparison between all the three powertrain variants of the Tata Tiago so that you can decide which one is right for you.
Specifications
Tiago Petrol
Tiago CNG
Tiago EV
Powertrain
1.2-litre, 3-cylinder
1.2-litre, 3-cylinder
PMS Motor with 19.2kWh / 24kWh battery
Max Power
86PS
73PS
19.2kWh model: 61PS
24kWh model: 75PS
Peak Torque
113Nm
95Nm
19.2kWh model: 110Nm
24kWh model: 114Nm
Transmission
5-speed MT/AMT
5-speed MT
Single-speed auto
Drivetrain
FWD
FWD
FWD
Tata Tiago EV vs Petrol vs CNG: Specifications Comparison
On paper, the Tata Tiago EV is the least powerful of the lot. However, its torque figures are on par with its petrol version.
Being an electric car, the Tiago EV comes with clutch-free operation, which will add more convenience, especially in city traffic conditions. The petrol-powered Tiago also comes with Automated Manual Transmission (AMT) option.
Running Cost
Tiago Petrol
Tiago CNG
Tiago EV
Fuel Tank / Battery Capacity
35L
Around 9-10 KG
19.2kWh or 24kWh
Claimed Mileage
23.84kmpl
26.49km/kg
–
Full Tank/Charge Range
≈ 800km
≈ 260 km (CNG),
Over 1,000 km (petrol + CNG)
19.2kWh: 215km
24kWh: 315km
Per KM running cost*
≈ Rs 4.53
≈ Rs 2.85
≈ Rs 1.41
Daily Running Cost (Average 50km)
≈ Rs 226.5
≈ Rs 142
≈ Rs 70.5
Monthly Running Cost (Average 1500km)
≈ Rs 6795
≈ Rs 4275
≈ Rs 2115
Tata Tiago EV vs Petrol vs CNG: Running Cost Comparison
*Based on petrol (Rs 108.08/L) and CNG price (Rs 91/kg) in Jaipur at the time of writing this article and the public charging rate at Tata's EV network (Rs 18.56/kWh).
The Tata Tiago EV offers an MIDC-tested range of 250km to 315km, depending on the battery pack. However, the real-world range could differ from the claimed figures. The same applies to its ICE versions as well.
The average 50km daily running cost of the Tata Tiago EV is much lesser than the price of one-liter petrol, making it an ideal offering for city use. However, it is worth noting that this running cost is derived from the public charging rates. Using a home charger will reduce this even further.
Compared to the Tiago CNG, the running cost of the EV is almost half.
Also Read: Tata Tiago EV: Which Variant You Should Buy?
Features
In terms of features, the Tata Tiago EV is better equipped than its petrol and CNG counterparts. It gets connected car tech with remote AC on/off, auto headmaps & rain-sensing wipers, leatherette seats, cruise control, a tire pressure monitoring system, and multi-level regenerative braking over their ICE counterparts.
Features like 7-inch touchscreen infotainment with Apple Carplay and Android Auto, Harman sound system, auto AC, steering mounted audio & telephony control, digital instrument cluster, height-adjustable driver's seat, rear wiper & defogger, dual-front airbags, ABS with EBD, rear parking camera with dynamic guidelines, etc., are shared among all.
Tata Tiago EV vs Petrol vs CNG: Price Comparison
Model
Price Range (Ex-Showroom)
Tata Tiago Petrol
Manual: Rs 5.40 lakh to Rs 6.83 lakh
AMT: Rs 6.70 lakh to Rs 7.38 lakh 
Tata Tiago CNG
Rs 6.30 lakh to Rs 7.73 lakh
Tata Tiago EV
19.2kWh: Rs 8.49 lakh to Rs 9.09 lakh 
24kWh: Rs 9.99 lakh to Rs 11.79 lakh 
Also Read: 2022 Tata Tiago CNG: First Drive Review
Verdict
It is clear from the on-paper comparison that Tata Tiago EV can prove to be a good option for day-to-day use. However, due to its limited range and lack of charging infrastructure, it may not be practical on long-distance trips. Its high price could also be a barrier for some customers.