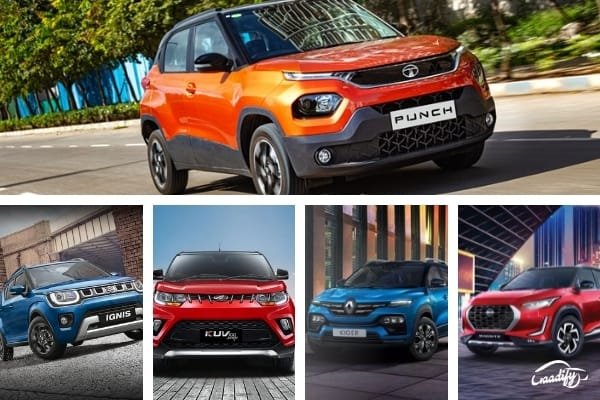 Tata Punch Vs Rivals: Price Comparison
Tata Motors has recently launched the highly anticipated Punch micro-SUV at an introductory price range of Rs 5.49 lakh to Rs 9.09 lakh (ex-showroom). At this price point, it is quite expensive than its core rivals Maruti Suzuki Ignis and Mahindra KUV100 NXT. In fact, its prices are much close to the most affordable sub-4m SUVs from Nissan and Renault. Let's see how the smallest Tata SUV offering compares to its rivals in terms of prices.
Also Read: Tata Punch Vs Maruti Suzuki Ignis Vs Mahindra KUV100 NXT – Specifications Comparison
Tata Punch*

Maruti Suzuki Ignis

Mahindra KUV100 NXT

Nissan Magnite

Renault Kiger
Manual Variants
Pure – Rs 5.49 lakh
Sigma – Rs 5.10 lakh
K2+ – Rs 6.06 lakh
XE – Rs 5.71 lakh
RXE – Rs 5.64 lakh
Adventure – Rs 6.39 lakh
Delta – Rs 5.81 lakh
K4+ – Rs 6.55 lakh
XL – Rs 6.47 lakh
RXL – Rs 6.54 lakh
Accomplished – Rs 7.29 lakh
Zeta – Rs 6.22 lakh
K6+ – Rs 7.08 lakh
XV – Rs 7.05 lakh
RXT – Rs 7.02 lakh
Creative – Rs 8.49 lakh
Alpha – Rs 6.97 lakh
K8 – Rs 7.72 lakh
XL Turbo – Rs 7.62 lakh
RXT(O) – Rs 7.37 lakh
XV Premium – Rs 7.85 lakh
RXZ – Rs 7.91 lakh
XV Turbo – Rs 8.20 lakh
RXT Turbo – Rs 8.12 lakh
XV Premium Turbo – Rs 9 lakh
RXZ Turbo – Rs 9.01 lakh
Automatic Variants
Adventure – Rs 6.99 lakh
Delta – Rs 6.31 lakh
XL Turbo CVT – Rs 8.51 lakh
RXL – Rs 7.04 lakh
Accomplished – Rs 7.89 lakh
Zeta – Rs 6.72 lakh
XV Turbo CVT – Rs 9.09 lakh
RXT – Rs 7.52 lakh
Creative – Rs 9.09 lakh
Alpha – Rs 7.47 lakh
XV Premium Turbo CVT – Rs 9.89 lakh
RXT(O) – Rs 7.87 lakh
RXZ – Rs 8.41 lakh
RXT Turbo CVT – Rs 9 lakh
RXZ Turbo CVT – Rs 9.89 lakh
*Introductory prices (valid till 31st Dec 2021)
Takeaways: –
With the base variant priced at Rs 5.49 lakh, the Tata Punch is the second cheapest car among all after the Maruti Suzuki Ignis. In fact, a segment above Renault Kiger is just Rs 15,000 more expensive than Tata's newest SUV. The Mahindra KUV100 NXT is the costliest of the lot and is priced from Rs 6.06 lakh.

On comparing the top-end manual transmission variants, the Punch is quite costlier than the Ignis and KUV100, making it the most expensive car in its segment. On the other way, the Ignis is the most affordable car here. Its range-topping Alpha variant is approximately Rs 32,000 more affordable than the Punch's mid-spec 'Accomplished' trim. For this added premium, the Punch gets lots of additional features over the Ignis such as automatic projector headlamps, rain-sensing wipers, cooled glovebox, cruise control, 7-inch TFT display for the instrument cluster, rear armrest, multiple driving modes, and even more cabin space.
Also Read: Tata Punch SUV – Variants and Customization Packs Explained
While the KUV100 NXT has the least creature comfort on offers, it comes with an additional middle seat in the front row, thus making it a 6-seater offering. Since Mahindra hasn't offered a seatbelt for that particular seat, it is pretty unsafe to use.

Taking into consideration the Nissan-Renault duo, the price of Tata Punch's top-spec Creative (manual) variant is way more expensive. However, it is nearly Rs 50,000 cheaper than their more powerful turbocharged variants. In terms of features, the Magnite's RXZ trim offers bi-projector LED headlamps, LED fog lamps, sequential turn indicators, 360-degree camera, tire pressure monitoring system, wireless connectivity for the Apple CarPlay and Android Auto, and a fully digital instrument cluster over the Tata Punch. While the Kiger's RXZ trim misses out on the 360-degree camera, it gets Tri-octa LED headlamps, a PM2.5 air filter for clean air, and a total of 4 airbags including the front side airbags, etc.

It is worth noting that Tata Punch, Maruti Ignis, and Mahindra KUV100 comes with a 1.2-litre naturally aspirated petrol engine that produces almost identical engine output. The Punch delivers 86PS/113Nm, while the Ignis and KUV100 produce 83PS/113Nm and 83PS/115Nm, respectively. On the other hand, the Nissan Magnite and Renault Kiger come with two petrol engine choices – 1.0-litre naturally aspirated (72PS/96Nm) and 1.2-litre turbocharged petrol (100PS/160Nm).
Speaking of the automatic variants, all the naturally aspirated engines of the above SUVs (save for the Nissan Magnite) come with a relatively cheaper AMT (Automated Manual Transmission), whereas the turbocharged variants of the Magnite and Kiger get a more sophisticated CVT (Continuous Variable Transmission) automatic unit option.

Similar to the manual variants, the entry-level Ignis AMT is the most affordable here, followed by Punch AMT and Kiger AMT. However, the Punch's top-spec AMT trim is around Rs 1.62 lakh and Rs 68,000 dearer than the Ignis Alpha AMT and Kiger RXZ AMT, respectively. By spending just Rs 80,000 over the Punch, you can get the top-spec CVT variant of the Magnite/Kiger for a more premium experience.

It is worth noting that Tata has provided the Punch AMT variants with an additional feature called 'Traction Pro', which will help the car out of the tricky driving conditions.
All prices ex-showroom Delhi.
Tata Punch Video Review: –