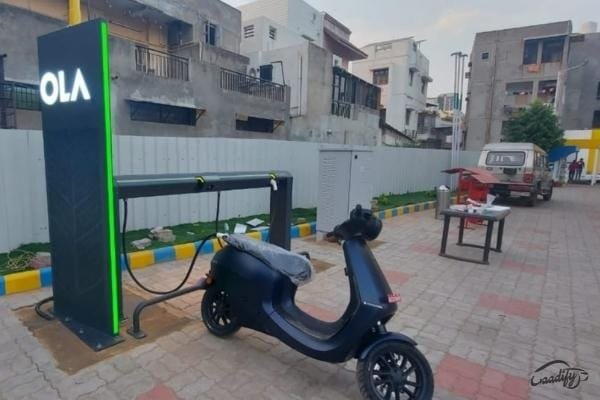 Ola Electric Aims To Setup Over 4000 Charging Point By 2022; Free Use Till June 2022
The Bengaluru-based mobility firm, Ola Electric, has started installing its fast-charging network called Hypercharger at key Bharat Petroleum fuel pumps and residential complexes. These EV charging points will be operational in the coming 6-8 weeks and will be free for use till the end of June 2022 for all Ola S1 and S1 Pro customers. Bhavish Aggarwal, the CEO, and co-founder of Ola Electric has also stated that the company is aiming to have over 4,000 charging points across the nation by the end of 2022. The brand has plans to set up the world's largest electric two-wheeler charging network, with more than 1 lakh charging points across 400 cities of the country.
Also Read: Ather Extends Free Charging Till June 2022
As per the previous announcements, these Hyperchargers will be competent in juicing up the batteries of Ola e-scooters from 0 to 50 percent in just 18 minutes, making it serve for an average 75 kilometers ride. Besides, Ola will also offer a portable charger as standard with each unit purchased that can be plugged straight into any regular 5Amp socket.
It is worth noting that Ola is yet to sync the software of the hypercharger with the scooter. It is likely to happen in the coming days. Besides, there are many smart features like the digital key, app connectivity, voice assistant, moods & widgets, hill hold, tamper alert, geofencing alert, and cruise control, etc that will be available through over-the-air (OTA) updates by June 2022.
Ola facing production delays, customers reporting serious issues
In other updates, Ola recently delivered the first 100 units of S1 and S1 Pro electric scooters in Bengaluru and Chennai. However, the latest reports are suggesting that the company is facing production delays, and currently, only 150 units are rolling out per day, which is extremely low considering Ola has more than 1 lakh orders to complete. Also, some of the units that have been recently delivered, started facing serious issues that you can see in the image attached below –
Ola has a long way to go, and the EV maker needs to ramp up production as well as address the issues of its customers on priority, otherwise, it could have dire consequences.
Also Read: One Moto Electa Electric Scooter With 150km Range Launched In India