In an anomalous announcement by Ola Electric, the company announced an "uncalled recall" for their S1 and S1 Pro electric scooters over the front fork failure issue. In multiple cases, the front fork suspension has failed, causing severe injuries to the owners. Now, the brand has finally "un"addressed its customer's concerns and provided them with an option to upgrade the front arm free of cost.
The replacements will be done by prior appointment, and the process will begin on March 22.
Ola's unapologetic apology
A statement released by Ola Electric expressed its gratitude for the two lakhs-strong community by saying, "thank you for being part of Mission Electric", and then addressed their concerns as "unfounded". First, it says the front fork design is not flawed, yet says it has been upgraded to 'enhance durability and strength'. Ola has also avoided using the 'recall' word anywhere in its communication.
Here's the full statement: –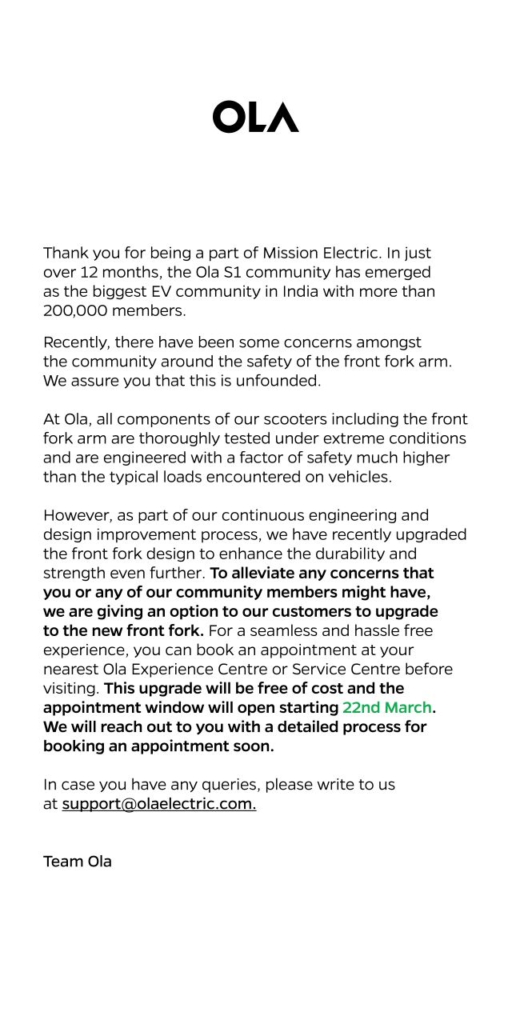 Also Read: Why Do Lithium-Ion Batteries Catch Fire? Ola and Pure EV Incident
For those unaware, the Ola S1 and S1 Pro models feature single-sided front forks, whereas the S1 Air has a conventional telescopic fork. In the latest design, the bottom section of the single fork has been strengthened with an additional bracing member.