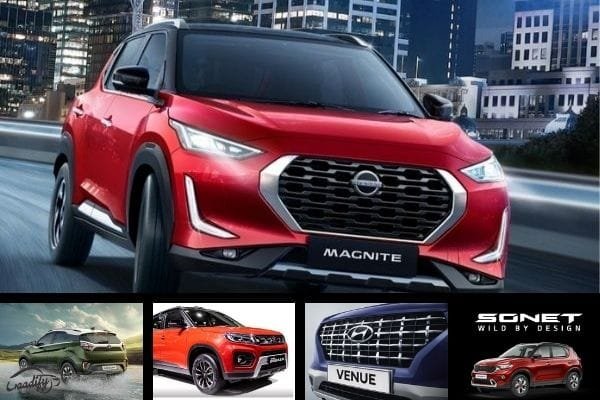 Nissan Magnite Vs Rivals: Price Comparison
Nissan India has recently launched its first sub-4m SUV in India, the Magnite at a killer price range of Rs 4.99 lakh to Rs 8.45 Lakh (ex-showroom), which makes it the most affordable sub-4m SUV in the country. Here, we have compared its variant-wise prices with the other offerings of the segment: –
Nissan Magnite Vs Rivals: Price Comparison
1. Naturally Aspirated Petrol Variants (Manual)
| | | | | | | |
| --- | --- | --- | --- | --- | --- | --- |
| Nissan Magnite | Kia Sonet | Hyundai Venue | Maruti Vitara Brezza | Ford EcoSport | Toyota Urban Cruiser | Honda WR-V |
| XE – Rs 4.99 lakh | | | | | | |
| XL – Rs 5.99 lakh | | | | | | |
| XV – Rs 6.68 lakh | HTE – Rs 6.71 lakh | E – Rs 6.75 lakh | | | | |
| XV with Tech Pack – Rs 7.07 Lakh | | | | | | |
| XV Premium- Rs 7.55 lakh | HTK – Rs 7.59 lakh | S – Rs 7.47 lakh | Lxi – Rs 7.34 lakh | | | |
| XV Premium (O) – Rs 7.65 lakh | | | | | | |
| XV Premium/ Premium(O) with tech pack- Rs 7.94 lakh | HTK+ – Rs 8.45 lakh | S+ – Rs 8.39 lakh | Vxi -Rs 8.35 lakh | Ambiente – Rs 8.19 lakh | Mid – Rs 8.40 lakh | SV- Rs 8.49 Lakh |
| | | | Zxi – Rs 9.10 lakh | Trend – Rs 8.99 lakh | High – Rs 9.15 lakh | |
| | | | Zxi+ – Rs 9.75 lakh | Titanium – Rs 9.78 lakh | Premium – Rs 9.80 lakh | VS / Exclusive Edition – Rs 9.69 Lakh |
| | | | | Titanium+/ Thunder Edition- Rs 10.68 lakh | | |
| | | | | S – Rs 11.23 lakh | | |
2. Turbocharged Petrol Variants (Manual)
| | | | | |
| --- | --- | --- | --- | --- |
| Nissan Magnite | Kia Sonet | Hyundai Venue | Tata Nexon | Mahindra XUV300 |
| XL – Rs 6.99 lakh | | | XE – Rs 7 lakh | |
| XV – Rs 7.68 lakh | | | XM – Rs 7.85 lakh | W4 – Rs 7.95 lakh |
| XV with Tech Package – Rs 8.07 lakh | | | | |
| XV Premium – Rs 8.45 lakh | | | XM(S) – Rs 8.37 lakh | |
| XV Premium (O) – Rs 8.55 lakh (Rs 8.84 lakh with Tech Pack) | | S – Rs 8.53 lakh | XZ – Rs 8.85 lakh | W6 – Rs 8.98 lakh |
| | HTK+ iMT – Rs 9.49 lakh | SX – Rs 9.86 lakh | XZ+ – Rs 9.65 lakh | |
| | HTX iMT – Rs 9.99 lakh | SX iMT – Rs 10 lakh | XZ+(S) – Rs 10.25 lakh | W8 – Rs 9.90 lakh |
| | | SX(O) – Rs 10.92 lakh | XZ+(O) – Rs 10.55 lakh | W8 (O) – Rs 10.97 lakh |
| | HTX+ iMT – Rs 11.65 lakh | SX(O) iMT – Rs 11.15 lakh | | |
| | GTX+ iMT – Rs 11.99 lakh | | | |
2. Turbocharged Petrol Variants (Automatic)
| | | | | | | |
| --- | --- | --- | --- | --- | --- | --- |
| Nissan Magnite | Kia Sonet | Hyundai Venue | Tata Nexon | Maruti Vitara Brezza | Ford EcoSport | Toyota Urban Cruiser |
| XL (CVT) – Rs 7.89 lakh | | | | | | |
| XV (CVT) – Rs 8.58 lakh | | | XMA – Rs 8.45 lakh | | | |
| XV (CVT) With Tech Package – Rs 8.94 lakh | | | XMA(S) – Rs 8.97 lakh | | | |
| XV Premium (CVT)- Rs 9.35 lakh | | S DCT – Rs 9.67 lakh | | Vxi – Rs 9.75 lakh | | Mid – Rs 9.80 lakh |
| XV Premium(O) (CVT) – Rs 9.45 lakh | HTK+ DCT – Rs 10.49 lakh | | XZA – Rs 10.25 lakh/ XZA+(S) – Rs 10.85 lakh | Zxi – Rs 10.50 lakh | Titanium – Rs 10.68 lakh | High – Rs 10.65 lakh |
| XV Premium/ Premium (O) (CVT) with Tech pack – Rs 9.74 lakh | | SX+ DCT – Rs 11.48 lakh | XZA+(O) – Rs 11.15 lakh | Zxi+ – Rs 11.15 lakh | Titanium+ – Rs 11.58 lakh | Premium – Rs 11.30 lakh |
| | GTX+ DCT – Rs 12.89 lakh | | | | | |

Nissan Magnite Vs Rivals: Engine Specification Comparison
Nissan Magnite is available with two petrol engine options: a 1.0-litre naturally aspirated and a 1.0-litre turbocharged unit. Here are the performance ratings: –
Nissan Magnite

Kia Sonet

Hyundai Venue

Maruti Vitara Brezza / Toyota Urban Cruiser

Tata Nexon

Ford EcoSport

Mahindra XUV300

Honda WR-V

Engine (Petrol)

1.0-litre

1.0-liter turbo

1.2-litre

1.0-litre turbo

1.2-litre

1.0-litre turbo

1.5-litre

1.2-litre turbo

1.5-litre

1.2-litre turbo

1.2-litre petrol

Max Power

72PS

100PS

83PS

120PS

83PS

120PS

105PS

120PS

122PS

110PS

90PS

Max Torque

96Nm

160Nm/ 152Nm

115Nm

172Nm

115Nm

172Nm

138Nm

170Nm

149Nm

200Nm

110Nm

Gearbox Options

5-speed MT

5-speed MT/ CVT

5-speed MT

6-speed iMT/ 7-speed DCT

5-speed MT/ 6-speed MT

6-speed iMT, 7-speed DCT

5-speed MT / 4-speed AT

6-speed MT / 6-speed AMT

5-speed MT / 6-speed AT

6-speed MT

5-speed MT

Mileage

18.75kmpl

20kmpl / 17.7kmpl

18.4kmp

18.2kmpl / 18.3kmpl

–

–

17.03kmpl / 18.76kmpl

–

15.9kmpl / 14.7kmpl

–

16.5kmpl
Takeaways: –
Since the Magnite is only available with petrol engines, hence we've only compared the petrol trims.
The Tech Package available with the Nissan's offering is a bunch of dealer specific accessories that include wireless charging pad, air purifier, ambient lighting, welcome puddle lamp and a premium JBL sound system. This pack is priced at Rs 38,698 and is only available from the XV variant onwards.
Also Read: Nissan Magnite: Which Variant Is Suitable For You?
It is clear from the above tables that the Nissan Magnite is the least expensive car among all with each powertrain options.
The Magnite undercuts the Kia Sonet's base variant by a huge margin of Rs 1.72 lakh, which was the cheapest car until now.
The starting price difference between Magnite and segment's best-seller Maruti Vitara Brezza is Rs 2.35 lakh, while the difference with the Hyundai Venue's base trim is Rs 1.76 lakh.
The Toyota Urban Cruiser and Honda WR-V have the highest base price in this segment as both these cars come better equipped than the base & mid variants of most of their rivals.
As far as the turbocharged models are concerned, the Magnite continues to be the most affordable option and quite a par with the Nexon's base trim. Magnite's top-line turbo variant also undercut all its competitors by a huge margin.
With the choice of an automatic gearbox, the Magnite is once again the most affordable option here undercutting the Tata Nexon by Rs 56,000 that comes with AMT, which is not even a true automatic transmission.
It is important to note that the Magnite's Naturally Aspirated 1.0-litre engine is the least powerful (72PS) powertrain here, whereas the Ford EcoSport offers the maximum power (122PS) among all.
Also Read: Kia Sonet Vs Hyundai Venue – Which One Is Better?
In terms of transmission options, Magnite, Sonet and Venue only come with a manual gearbox if the naturally aspirated engine is concerned. Whereas Magnite's turbo engine gets CVT automatic option. Kia and Hyundai offer the turbo units of their respective SUVs with both a 7-speed DCT and a 6-speed clutchless manual gearbox (intelligent manual transmission).
The Maruti Suzuki Vitara Brezza and Toyota Urban Cruiser get a 4-speed and Ford EcoSport gets a 6-speed torque converter automatic transmission choices, while Tata Nexon gets a 6-speed AMT.
Honda WR-V & Mahindra XUV300 are the only cars in the segment that does not get any automatic gearbox option with a petrol engine.
Nissan Magnite Video Review