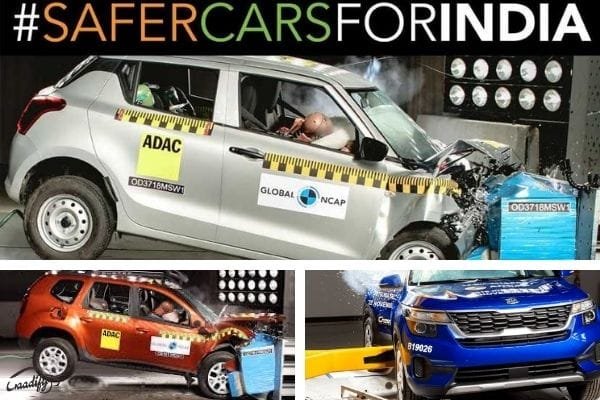 Made-In-India South African Renault Kwid Is More Safer Than Indian Version
Global NCAP has recently crash-tested the made-in-India South African Renault Kwid, and it secured a 2-star safety rating. Importantly, its Indian version scored 1-star when it was tested back in 2016. And the story is no different for the Maruti Suzuki S-Presso, which has scored a big fat ZERO in the recent safety tests. However, Suzuki's officials claimed that it's South African counterpart, which is also manufactured in India, is safer than the Indian model. Though, it is yet to undergo a crash test. Now, the question arises here that why the models of both countries have such a difference in the safety ratings, while they are being manufactured in India.
This is because the Global NCAP always selects the variant which has the lowest safety features (the model with standard safety features), and the model tested of both these cars were a lower-spec trim, featuring only driver's side airbag, and no pretensioners for the front seat belts, while the models sold in South African feature dual front airbags (driver & co-passenger side) and front seatbelt pretensioners as standard across their variant line-up.
The Indian-spec S-Presso also offer the passenger-side airbags as an option in lower variant & standard in top trim, whereas in Kwid's line-up, only the top-line variants offer its option. It's worth noting that the Brazil-spec Renault Kwid had achieved 3-stars in the Latin NCAP tests when it was tested back in 2017, as it offers dual front airbags, side airbags, and ISOFIX child seat mounts. The side airbags and the ISOFIX anchorages are not available in any trim of the Indian-spec Renault Kwid. This story is not limited only to the Kwid and S-Presso but is the problem with most global models available for sale in India. So why most Indian cars are not as safe as the cars available in other countries?
From government regulations to customer's demands, there are so many reasons behind this. But it is important to note that India's per capita income is lower than these countries, hence, most of the Indian customers are price sensitive and they demand the most fuel-efficient car in the most affordable range, and safety is thus put on aside. Consequently, the companies don't pay much attention to safety, especially in lower variants.
Also Read: Kia Seltos Received 3-Star Safety Rating In Global NCAP Crash Test
There is no doubt that customer awareness about safety has been increased a little in the last few years, but we're still not as cautious as we need to be, and the latest report from the ministry of road transport and highways (MoRTH) clearly reflected this, according to which an average of 17 people lose their lives in a road accident every hour.
In 2013-14, UN Regulation 94 crash test standards were implemented in our country, which tests cars at around 56kmph. Is it sufficient for the Indian conditions? Well, we all know the answers.
It is essential to make Indian buyers aware of safety and for this, it is necessary to educate consumers through extensive campaigns. And carmakers should also consider their obligation towards society to promote safety, especially those companies which have more than 50% market share.