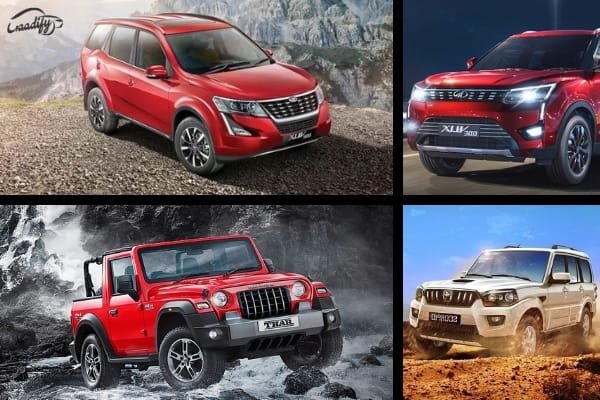 Mahindra SUVs Got Expensive By Up To Rs 49,000
Mahindra has once again hiked the prices of its entire product lineup, including the bestseller Bolero, Scorpio, and second-generation Mahindra Thar. It's the second time for this year when the brand has revised the prices of all the SUVs except for the Alturas G4. Here's how much extra you have to shell out for the Mahindra vehicles: –
1. Mahindra KUV100 NXT
| | | | |
| --- | --- | --- | --- |
| Variants | Old Price | New Price | Premium |
| K2 | Rs 5.87 lakh | Rs 6.06 lakh | +Rs 19,000 |
| K4 | Rs 6.34 lakh | Rs 6.55 lakh | +Rs 21,000 |
| K6 | Rs 6.86 lakh | Rs 7.08 lakh | +Rs 22,000 |
| K8 | Rs 7.48 lakh | Rs 7.72 lakh | +Rs 24,000 |
2. Mahindra XUV300
Petrol variants: –
| | | | |
| --- | --- | --- | --- |
| Variants | Old Price | New Price | Premium |
| W4 | Rs 7.95 lakh | Rs 7.96 lakh | Rs 1,000 |
| W6 | Rs 9.40 lakh | Rs 9.7 lakh | Rs 30,000 |
| W6 AMT | Rs 9.95 lakh | Rs 10.25 lakh | Rs 30,000 |
| W8 | Rs 10 lakh | Rs 10.31 lakh | Rs 31,000 |
| W8 (O) | Rs 11.12 lakh | Rs 11.47 lakh | Rs 35,000 |
| W8 (O) AMT | Rs 11.77 lakh | Rs 12.13 lakh | Rs 36,000 |
Also Read: To Tackle Oxygen Crisis Mahindra Launched 'Oxygen on Wheels' Initiative In Maharashtra
Diesel variants: –
| | | | |
| --- | --- | --- | --- |
| Variants | Old Price | New Price | Premium |
| W4 | Rs 8.70 lakh | Rs 8.97 lakh | +Rs 27,000 |
| W6 | Rs 10 lakh | Rs 10.31 lakh | +Rs 31,000 |
| W6 AMT | Rs 10.62 lakh | Rs 10.95 lakh | +Rs 33,000 |
| W8 | Rs 11.15 lakh | Rs 11.50 lakh | +Rs 35,000 |
| W8 (O) | Rs 11.90 lakh | Rs 12.27 lakh | +Rs 37,000 |
| W8 (O) AMT | Rs 12.55 lakh | Rs 12.94 lakh | +Rs 39,000 |
3. Mahindra Bolero
| | | | |
| --- | --- | --- | --- |
| Variants | Old Price | New Price | Premium |
| B4 | Rs 8.17 lakh | Rs 8.40 lakh | +Rs 23,000 |
| B6 | Rs 8.89 lakh | Rs 9.15 lakh | +Rs 26,000 |
| B6 (O) | Rs 9.39 lakh | Rs 9.15 lakh | +Rs 24,000 |
Also Read: Mahindra Bolero To Soon Get Dual-Tone Exterior Finishing
4. Mahindra Scorpio
| | | | |
| --- | --- | --- | --- |
| Variants | Old Price | New Price | Premium |
| S3 Plus | Rs 11.99 lakh | Rs 12.32 lakh | +Rs 33,000 |
| S5 | Rs 12.68 lakh | Rs 13.02 lakh | +Rs 34,000 |
| S7 | Rs 14.74 lakh | Rs 15.20 lakh | +Rs 46,000 |
| S9 | Rs 15.37 lakh | Rs 15.82 lakh | +Rs 45,000 |
| S11 | Rs 16.53 lakh | Rs 17.02 lakh | +Rs 49,000 |
5. Mahindra Thar
Petrol variants:-
| | | | |
| --- | --- | --- | --- |
| Variants | Old Price | New Price | Premium |
| AX (O) HT | Rs 12.10 lakh | Rs 12.12 lakh | +Rs 2,000 |
| LX HT | Rs 12.30 lakh | Rs 12.81 lakh | +Rs 2,000 |
| LX AT Convertible | Rs 13.85 lakh | Rs 13.87 lakh | +Rs 2,000 |
| LX AT HT | Rs 13.95 lakh | Rs 13.97 lakh | +Rs 2,000 |
Diesel variants: –
| | | | |
| --- | --- | --- | --- |
| Variants | Old Price | New Price | Premium |
| AX (O) CT | Rs 12.30 lakh | Rs 12.32 lakh | +Rs 2,000 |
| AX (O) HT | Rs 12.40 lakh | Rs 12.42 lakh | +Rs 2,000 |
| LX MT CT | Rs 13.15 lakh | Rs 13.17 lakh | +Rs 2,000 |
| LX MT HT | Rs 13.25 lakh | Rs 13.27 lakh | +Rs 2,000 |
| LX AT CT | Rs 14.05 lakh | Rs 14.07 lakh | +Rs 2,000 |
| LX AT HT | Rs 14.15 lakh | Rs 14.17 lakh | +Rs 2,000 |
6. Mahindra Marazzo
7-seater variants: –
| | | | |
| --- | --- | --- | --- |
| Variants | Old Price | New Price | Premium |
| M2 | Rs 11.64 lakh | Rs 12.04 lakh | +Rs 40,000 |
| M4 | Rs 12.73 lakh | Rs 13.13 lakh | +Rs 40,000 |
| M6 | Rs 13.72 lakh | Rs 14.04 lakh | +Rs 32,000 |
8-seater variants: –
| | | | |
| --- | --- | --- | --- |
| Variants | Old Price | New Price | Premium |
| M2 | Rs 11.64 lakh | Rs 12.04 lakh | +Rs 40,000 |
| M4 | Rs 12.81 lakh | Rs 13.21 lakh | +Rs 40,000 |
| M6 | Rs 13.80 lakh | Rs 14.12 lakh | +Rs 32,000 |
7. Mahindra XUV500
| | | | |
| --- | --- | --- | --- |
| Variants | Old Price | New Price | Premium |
| W7 | Rs 15.13 lakh | Rs 15.53 lakh | +Rs 40,000 |
| W7 AT | Rs 16.63 lakh | Rs 16.73 lakh | +Rs 40,000 |
| W9 | Rs 16.83 lakh | Rs 17.27 lakh | +Rs 40,000 |
| W9 AT | Rs 18.04 lakh | Rs 18.48 lakh | +Rs 44,000 |
| W11 (O) | Rs 18.33 lakh | Rs 18.81 lakh | +Rs 48,000 |
| W11 (O) AT | Rs 19.56 lakh | Rs 20.04 lakh | +Rs 48,000 |
Also Read: Mahindra XUV700 Likely To Be Launched By October 2021
8. Mahindra Alturas G4
| | | | |
| --- | --- | --- | --- |
| Variants | Old Price | New Price | Premium |
| 2WD | Rs 28.73 lakh | Rs 28.74 lakh | +Rs 1,000 |
| 4WD | Rs 31.73 lakh | Rs 31.74 lakh | +Rs 1,000 |
Takeaways: –
Mahindra's flagship Alturas G4 full-sized premium SUV is the least affected by the price hike. In fact, the price hike it has received is negligible against its price tag.
Following the footstep of Alturas, the most-in-demand Thar off-roader has also witnessed a minimal price hike of Rs 2,000 across the variant lineup.
The price increment for the 7-seater XUV500 mid-sized SUV ranges between Rs 40,000 and Rs 48,000, depending on the variant. Usually, brands avoid increasing the prices of those model which are meant to be discontinued soon. However, the case is opposite for the XUV 5 double 'oh. For the people not in know, the upcoming XUV700 is likely to replace the XUV500 for a temporary period.
The higher variants to the Mahindra Scorpio are the most affected by the price revision. It has become costlier by up to Rs 49,000.
People eyeing Mahindra's consistently popular Bolero rugged SUV will have to shell out upto Rs 26,000 more.
Talking about the XUV300 subcompact SUV, it has gotten dearer by Rs 1,000 to Rs 37,000.
Mahindra's only MPV, the Marazzo has seen a price hike of up to Rs 40,000, whereas the entry-level KUV100 NXT has gotten costlier by up to Rs 24,000.

Except for the price updation, no other changes have been made to any of these SUVs.