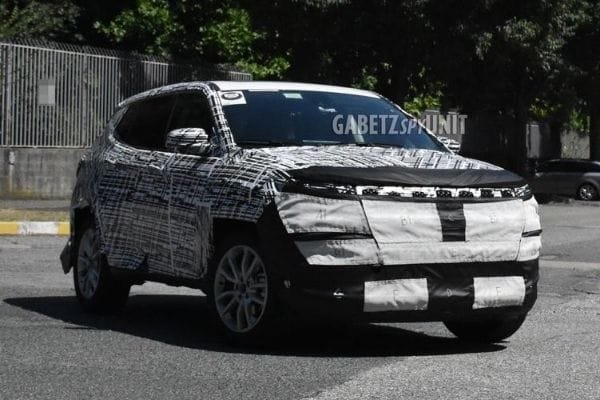 Jeep Compass Facelift To Get A Floating Infotainment System
Recently, an updated version of Jeep's entry-level offering, Compass was speid during testing. Though the unit being tested was under heavy camouflage, its dashboard was uncovered. From the spy shots it can be seen that the updated Compass gets a floating infotainment system, unlike the current Compass which houses integrated infotainment on the dashboard.
More about updated Infotainment
Earlier, the company has revealed the updated UConnect Infotainment system with a 12.3 inch, touchscreen display. The updated Compass is expected to feature the same display (up from 8.4 inches system currently on offer) which happens to be a floating unit, as seen on most of the cars lately.
The updated infotainment system also features a powerful processor and will also get advanced features like voice recognition, natural voice capability and voice commands that work with the prompt 'Hey Jeep', something that is also offered with its direct rival, the Hector. These features will be offered in addition to Android Auto and Apple CarPlay connectivity that is offered with the current Compass as well
The updated UConnect 5 infotainment system also comes equipped with connected app technology that facilitates over-the-air updates.
Also Read: Jeep Compass Night Eagle Edition Launched At Rs 20.14 Lakh
All the other things expected to remain the same
As the testing mule was being tested under heavy camouflage, we do not have any firm idea about the design but small cosmetic tweaks can not be written off.
The updated Compass SUV is expected to be offered with the same engine options a 1.4-litre Turbo Petrol (160 HP/250 Nm) and 2,0-litre (170 HP/350 Nm) diesel engine. Both engines are offered with manual and automatic transmission options.
Also Read: All About Jeep Compass 4xe- The Plug-in Hybrid Electric Vehicle (PHEV)
Author's Take
Despite being launched in 2017, Jeep Compass has still been doing really well. When it was launched it was the only mid-sized SUV, but three years down the line the competition has got really stiffer. MG threw Hector into the fray and Tata made a rocking entry into the market with Harrier.
Thus this is a timely move from Jeep, and even if there was no real urgency, this comes across as great catch-up move. The updated Compass could witness a marginal price hike over the current Compass (currently, it retails between 16.49 Lakhs and 24.99 Lakhs) and can be expected to arrive at Indian dealerships in the first half of 2021.