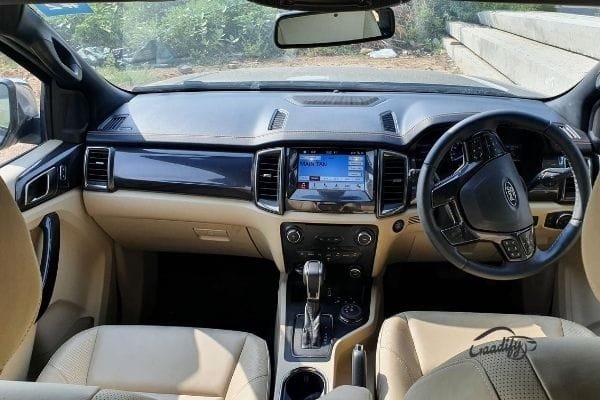 Ford Endeavour 2020 review : Is 2 liter enough?
SUV is now an abused term. We have been abusing it here in South and East Asia for a good half a decade now. Right from a hatchback with some raised ground clearance to a big chunky 5-6 liter diesel trucks, we call all of them with the same name, SUV.
Well, we will keep this discussion of defining SUVs someday for sure but today, this article is a review of genuinely capable SUV, the Ford Endeavour.
Note: Since Ford has not made any significant changes to the car apart from the drive train, this review will focus on changes only.
Ford Endeavour can be called a proper SUV with all the required mechanicals one needs to go off the road and the car gets those SUV looks as well. In India, it competes with Toyota Fortuner, Mahindra Alturas, Skoda Kodiaq, Tiguan All Space, and Isuzu MU-X.
Critics and SUV lovers often call Endeavour as the best and most sensible SUV one can buy in India. And Endeavour had it in it, well at least until BS6 came in effect. With BS6 ford decided to go ahead with a revised engine and gearbox option which was a shock to many when they heard about it for the first time. A 2-liter engine with a 10-speed Gearbox. WHAT, from 3.2 liter 5 cylinders to just a 2 liter, For an SUV that weighs more than 2.4 tons?

No doubt we all thought ford has lost it. Some even went ahead and said that this is a slow step towards an exit from India.
But in my tiny career in this field, I have learned one thing that we should never draw a conclusion before driving or testing.
I was excited to drive new Endeavour in dunes in Feb 2020 when ford invited but due to my over-ambitious nature, I thought I should attend the Geneva motor show this year. Everyone now knows that the Geneva motor show was called off at the last moment and I was left with nothing.
Came back to India and asked ford to help me with the endeavour and they told me that I will get it in a week or two. But we all got a 3 + month lockdown by then. I finally got Endeavour 2 weeks back i.e Mid JULY.
I couldn't drive the car first day as my colleague picked it from ford but I kept asking him various things like how it is to drive, how is refinement level, etc.
Cut to today. I drove endeavour 900+ km before I returned the car and here is my review.
Exterior:
Apart from the headlamp housing style, LEDs instead of halogen and omission of 3.2L badge nothing has changed in the exterior. Honestly speaking I was expecting some styling changes like what we see on Everest sport in Australia. But the car still looks like a big macho SUV and somehow also establishes the fact that design has to do something with America.
There is hardly anything that one would instantly want more in the exterior. Maybe some would ask more features like headlamps washer that was omitted couple of years back.
Interiors:
Step in to endeavour with your foot on slight wobbly footboard and hand on very firm hand grabs on A-pillar, you will notice nothing has changed inside as well. Not even colors of plastics (Ford has made changes in plastic color panels in some of their cars in the name of facelifts).
Upon keen inspection, you will find some changes in gearknob and that it. The car retains its electricals and mechanicals and so does their controls near the gear lever.
It even retains features like CD player and last row electric fold. Ford, I think you can remove both of these and transfer that cost in something more useful like Ventilated seats. Nevertheless, You will appreciate fit and finish and selection of material for an off-roader vehicle which is expected to take some abuse inside as well. Features are still above average in terms of segment, Alturas tops in our reviews when you ask about features.
Engine:
So a 2-liter diesel engine comes with a 10-speed torque converter gearbox. On paper, the power output is 170 ps and torque is 420 nm. But the real question is, Is that all enough to match everything that was offered by 3.2l? Enthusiasts used to love that 5 cylinder diesel and were in hope that with BS6 we will get them a 2-liter Bi-turbo. That missing turbo also keeps us away from 30 ps and 80 nm of power and torque respectively.
How it performs? Well, let's divide the performance part in two, On-road and Off-road.
On-Road performance with Endeavour 2 liter:
As soon as you start picking up you realize that it is a different engine under that bonnet which you can see from the driver seat. It makes some noise when you pick from a standstill or revv it and then go almost silent. Then comes the 10-speed gearbox in action. It will always keep engine RPMs between 1800 RPM and 2200 RPM. Since you have 10 gear ratios, the 10th one obviously is being used after you are on speeds of 95 kmph + and doing lightfoot. Press hard on pedal and gearbox allows you to get more power from the engine which is available comfortably till 3500 RPMs.
Honestly, you will not find any issues with performance if you are 5 adults on board and want to do speeds up to 120-130 kmph.
I, particularly, was excited to check weather Fuel efficiency has improved or not? I think I would say I am somewhat disappointed. You will get a good 12kmpl on Highway if you drive below 105 kmph with limiter or cruise control but in cities, where most of us see these SUVs usually, that Fuel economy drops well below 8 kmpl. With 2-3 people always on board in a bumper to bumper traffic, expect a FE figure of 7 kmpl only.
There are no vibrations as such and engine, though not making a good sound like 3.2l, wasn't any harsh.
Off-road performance:
If your idea of off-road is just doing some commutes on roads with very big potholes or maybe on tracks with a lot of sand around then you should stick with 4*2 RWD cars. Even endeavour 4*2 will do almost all your duties delicately in such scenarios. I took Endeavour 4×4 to some real off-roading. I used MotoSport park in Jaipur to test some of the things that I thought endevour is capable of.
Did Endy meet my expectations? Ahh Kind off. To start with I would say the only thing that is good about this 2 L in offroading is the fact that it is a bit linear in power delivery when you are easy on the throttle and this will be a good thing for all those who are new or less experienced in dealing with things like sand, rocks, snow, slush, etc.
How will experienced offroaders react to it? They will miss that frugal power and torque delivery that 3.2 L used to deliver. In fact, in a low ratio that 2nd gear was enough for many situations but this new gearbox will require extra attention. Gearbox got a function where it allows you to hold the gear. For example, if you select 3 rd gear then the car might shift down to 2nd when required but will not shift to 4th. However, this has to be selected every time if you shift to Neutral or reverse. Ford should have given it the feature that when a car is in some diff lock or some Off-road mode, the selection of top gear should remain in memory even after shifting to N or R. Gearbox does skip gears while downshifting and can jump from 5 to 3 or 7 to 5 if required. This helps in keeping that power accessible instantly. It helps in city conditions when traffic is less but you keep braking for various reasons like traffic lights or maybe due to stray animals.
Other than that, Modes such as Sand, Snow, rock works decent and I had almost no perfect place to test them. Things like various car angles on the MID display actually helps a lot.
Ride / Handling / Suspension:
Not just Transmission but seems like Ford has done some tweaks to suspensions as well. Car is still amazing with its ride and handling but small sharp bumps now give a wobbly sensation. Do not get me wrong, the Wobbly sensation doesn't mean that car wobbles but it feels like on those specific bumps, wheels do not glide but wobble a bit. Maybe with 3-4 adults on board, you might not feel that.
Braking:
One line, Everything feels perfect and you will get better feedback with better road tires. The bite is enough to stop a 2+ ton SUV.
Other observations:
Endeavour now gets an AdBlue tank but it is hanging low near the rear left wheel and that can be an issue on off-road situations like river beds etc.
AdBlue gauge is there in MID and you will also notice there is a new warning sign which indicated when DPF is being cleaned. This will usually happen when the exhaust is hot enough.
A very welcome change is in All LED setup. The throw is adequate for all sorts of roads now.
Table of all the variants of Ford endeavour with their respective prices and Fuel Economy figures

| | | |
| --- | --- | --- |
| Variants | Prices | Fuel Efficiency |
| Titanium RWD | Rs 29,55,000 | 13.9 kmpl |
| Titanium+ RWD | Rs 31,55,000 | 13.9 kmpl |
| Titanium+ 4×4 | Rs 33,25,000 | 12.4 kmpl |
Verdict:
I think Ford should bring in the more powerful twin-turbo engine as well. Outgoing single turbo is good for a 4*2 and 4×4 can come with Bi-Turbo one. How cool that will be. Considering the price and fuel efficiency figures of various variants (Listed above) I think Endeavour 4×2 makes a lot of sense if you hardly do proper off-roading and end up on good or bad roads mostly.
Note: Ford India gave the car for the review and off-road location comes courtesy of Motosport park Jaipur. GaadiFy and Gagan Choudhary borne any additional cost that came in.