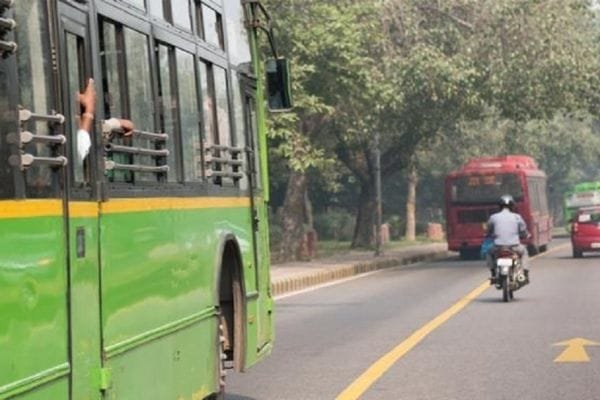 Buses And Goods Carrier In Delhi To Follow Lane Driving From April, Fines Up To Rs 10,000
In order to curb road accidents and reduce traffic congestion, the transport department of the Delhi government is going to strictly implement lane driving discipline for buses and goods carriers in the region from April 1, 2022. Those who will violate the rules will be accountable for prosecution under Section 192-A of the Motor Vehicles Act, 1988, which specifies a fine of up to Rs 10,000 or six months of imprisonment for errant drivers.
The Delhi transport department has identified a total of 46 corridors where lane driving will be implemented in phases. However, in the first phase, 15 corridors have been earmarked for dedicated lane driving from 8 AM to 10 PM. These include the Moti Nagar to Dwarka Mor, Kashmere Gate ISBT to Apsra Border, Jahangirpuri Metro Station-Kashmere Gate ISBT, Ashram Chowk to Badarpur Border, Mehrauli-Badarpur Road stretch from Anuvrat Marg T-point to Pul Prahladpur T-point, Signature Bridge-Bhopura Border, Janakpuri to Madhuban Chowk, Britannia Chowk to Dhaula Quan, and ITO-Ambedkar Nagar, among others. 
For those who aren't aware, the Delhi government had announced this initiative in August last year. And as part of this drive, the Public Works Department (PWD) was directed to identify and mark the corridors by placing warning signage and boards at suitable places. 
Also Read:
The transport department has also announced that there will be two enforcement squads on the ground in two shifts to execute lane discipline. They will also record videos and take photographs of the vehicles disobeying rules as proof. Cranes will also be deployed for seizing and removal of vehicles blocking the bus lanes. In case any vehicle is found parked on or in the marked bus lanes, and its driver refuses to clear it, the vehicle will be towed away by the enforcement team and a penalty will be levied besides the towing charges.