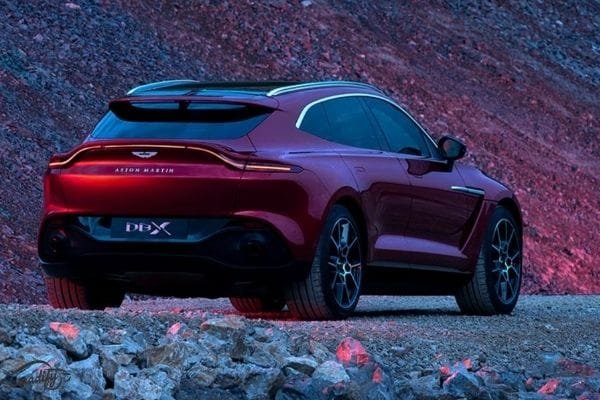 Aston Martin DBX: Four Things To Know About
DBX- the first-ever Aston Martin's luxury SUV has finally made its way to our shore at a base price of Rs 3.82 crore (ex-showroom India). Based on an all-new platform, it is essentially a crossover rather than a conventional SUV and will rival the Bentley Bentayga & Land Rover Range Rover. The DBX has also got enough capabilities to compete with the Lamborghini Urus. Here are the top four things you should know about the Aston Martin DBX SUV: –
1. Design
The all-new DBX SUV is archetypal Aston Martin. With a length spanning 5,039mm, it is unquestionably a massive SUV. It highlights Aston Martin's design philosophy in a new style, and with a unique body architecture, muscular & unique curvature, it just looks phenomenal. Based on an all-new bonded aluminum platform, it weighs about 2,245kg. Featuring a large DB11-esque front grille, a unique sculpture of bonnet and two air inlets on the lower side of the aggressively styled bumper gives it a futuristic appearance.
The climactic contour of the doors and large 22-inch gunmetal alloy wheels give DBX an astonishing characterization, whereas its ducktail-styled spoiler, signature LED taillights and two exhaust tips evoke the styling of the flagship Vantage sportscar.
2. Luxury Exemplified
The Aston Martin DBX is a 5-seater SUV and a perfect example of luxury. The simple yet elegant styling of the cabin comprises three different grades of leather. Its Mercedes sourced 10.25-inch touchscreen infotainment system takes the dashboard's pride, which features Apple CarPlay as standard. The DBX also features a 12.3-inch digital driver's display, panoramic sunroof, three-zone climate control, 64 ambient lightings, 40:20:40 split rear seat, 360-degree camera, 14-speaker (13 speakers + 1 subwoofer), heated steering wheel, 12-way power-adjustable front seats with ventilation & optional broguing.
At 3,060mm wheelbase, it has lots of room in the back seat, and the cargo capacity is a whopping 632 liters. It also gets a 48V Anti Roll Control System (eARC), triple chamber air springs, and electronic adaptive dampers, which can boost DBX's height by 45mm or lower it by 50mm from its normal 190mm ground clearance. It has a wading depth of up to 500mm.
3. Mercedes Sourced AMG Engine
Just like the Aston Martine DB11 & Vantage sportscar, the DBX also sports a Mercedes-AMG-sourced 4.0-litre twin-turbo V8 engine which generates 550PS of massive grunt and 700Nm of whopping torque. Mated to a 9-speed automatic transmission, it sends the mechanical force to all wheels through a rear-biased bespoke all-wheel-drive system (primarily sends power to the rear wheels but channelize the power to front wheels also when high traction is required).
It can sprint from 0-100kmph in just 4.5 seconds and has a top speed of 290kmph. It also features cylinder deactivation technology that shut off one bank of cylinders at low speeds.
The Aston Martin DBX also gets five driving modes: GT, Sport, Sport+, Terrain, and Terrain+.
4. Limited Availability
Aston Martin DBX is an extremely exclusive offering as only 11 units are allocated for the Indian market. It will be sold as a completely built unit (CBU) in India.