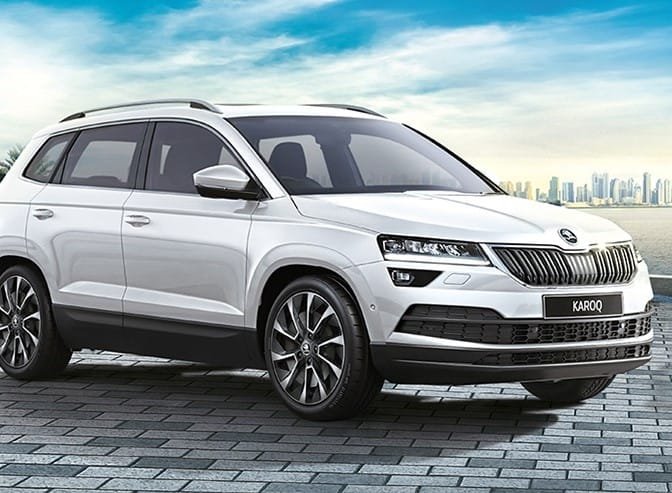 Skoda launches Karoq, Overpriced 5 seater SUV
Skoda has never piled products in their Indian lineup. They've have been clear with their approach in well-identified and categorized products which are introduced with clear intentions and eye recognized goals. Their current lineup has its representative sedans – entry-level mid-size sedan, a mid-size sedan, and a luxury sedan. The seven-seater Kodiaq has also cemented its position. There was a void with hazing and elimination of Yeti. Skoda has launched the all-new Karoq for small families seeking luxury.
About Skoda Karoq
The Karoq will be brought in India as a Completely Built Unit. it will be sold in one variant only.
The Karoq carries the same engine unit as the Volkwagen's T-Roc. It is the 1.5L petrol unit which churns a power output of 148bhp and 250N-m torque. The car tops at 202 km/hr and reached the 100 km/h mark in 9 seconds. The claimed mileage figure is 17 km/l with a 50L fuel tank capacity. The transmission it carries is also the same 7-speed DSG unit. The feature list is long as can be expected from an offering in this segment.
The design (exterior and interior) is pretty much what you can expect from a Skoda car with a simple, smart and sophisticated design, just like the bigger sibling, The Kodiaq. A seating capacity of 5, an 8-inch entertainment touchscreen equipped with apple car play, android auto. The electrically adjustable seats add to the convenience and panoramic sunroof gives the cabin an airy feel.
Nine airbags, Tire Pressure Monitoring System (TPMS), ABS with EBD, Electronic disability control, multi-collision brakes, traffic jam assist, blind spot detect, auto light assist add to the safety features. The car bagged 5-star rating in the standard NCAP test.
The car will be offered in India with a price tag of Rs 24.99 lakh.
Author's Take
The Karoq is a strong offering and I am guilty of a bias to Skoda's design and car presenting philosophy. But if I try to think of it keeping my prejudices aside, the boulder in its path is its price which I expected to be a bit more competitive. The T-Roc's top model comes at around Rs 21 lac whereas the Automatic Jeep compass also comes at a lower price with such Competition the Karoq may find it a bit difficult to appeal to some customers. We can only wait to see what time and market has to offer. Thanks.