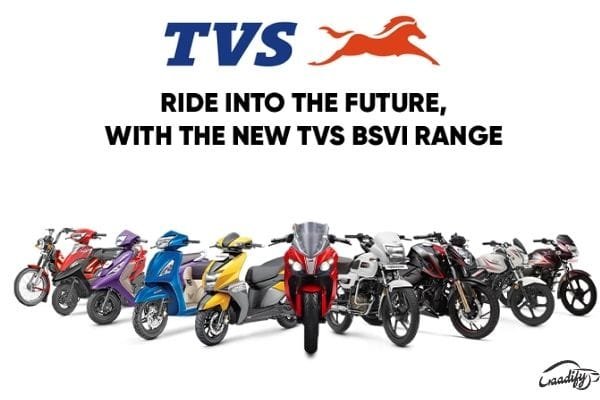 TVS Bikes And Scooters Prices Hiked: Apache Range, Pep Plus, Jupiter And NTorq 125
The year 2021 has been started with an unpleasant note because every manufacturing is announcing a price hike across their product line-up. Following the trend, TVS has also increased the rates of its four popular scooters (Pep+, Scooty Zest+, Jupiter, and Ntorq 125) and Apache range, consisting of bikes from 160cc to 310cc segment. Here's the revised price list: –
1. TVS Apache Motorcycles
| | | | |
| --- | --- | --- | --- |
| Model | New Price | Old Price | Premium |
| Apache RTR 160 Drum | Rs 1,02,070 | Rs 1,00,550 | Rs 1,520 |
| Apache RTR 160 Disc | Rs 1,05,070 | Rs 1,03,550 | Rs 1,520 |
| Apache RTR 160 4V Drum | Rs 1,07,270 | Rs 1,05,500 | Rs 1,770 |
| Apache RTR 160 4V Disc | Rs 1,10,320 | Rs 1,08,550 | Rs 1,770 |
| Apache RTR 180 Single-channel ABS | Rs 1,08,270 | Rs 1,06,500 | Rs 1,770 |
| Apache RTR 200 4V Single-channel ABS | Rs 1,27,020 | Rs 1,25,000 | Rs 2,020 |
| Apache RTR 200 4V Dual-channel ABS | Rs 1,33,070 | Rs 1,31,050 | Rs 2,020 |
| Apache RR 310 | Rs 2,48,000 | Rs 2,45,000 | Rs 3,000 |
2. TVS Scooters
| | | | |
| --- | --- | --- | --- |
| Model | New Price | Old Price | Premium |
| Scooty Pep Plus Glossy | Rs 54,374 | Rs 53,754 | Rs 620 |
| Scooty Pep Plus Matte Edition | Rs 56,224 | Rs 55,204 | Rs 1,020 |
| Scooty Zest Gloss | Rs 61,345 | Rs 60,325 | Rs 1,020 |
| Scooty Zest Matte Series | Rs 63,345 | Rs 61,825 | Rs 1,520 |
| Jupiter Sheet Metal Wheel (NEW VARIANT) | Rs 63,497 | NA | NA |
| Jupiter STD | Rs 65,497 | Rs 63,852 | Rs 1,645 |
| Jupiter ZX | Rs 68,247 | Rs 66,077 | Rs 2,170 |
| Jupiter ZX Disc with iTouchstart | Rs 72,347 | Rs 69,577 | Rs 2,770 |
| Jupiter Classic | Rs 72,472 | Rs 70,802 | Rs 1,670 |
| NTorq 125 Drum | Rs 70,555 | Rs 68,885 | Rs 1,670 |
| NTorq 125 Disc | Rs 74,555 | Rs 72,885 | Rs 1,670 |
| NTorq 125 Race Edition | Rs 77,035 | Rs 75,365 | Rs 1,670 |
| NTorq 125 Super Squad Edition | Rs 79,535 | Rs 77,865 | Rs 1,670 |
*All prices, ex-showroom Delhi.
Takeaways: –
The two-wheelers are considered as an affordable & convenient means of transportation, but with the gradual price increment, their affordability factor fluttering away. As per TVS announcements, the price hike is due to the rising commodity costs of steel, aluminum, plastics, and other materials.
The price hike ranges between Rs 620 to Rs 3,000.
India's most affordable scooter, the Scooty Pep has received a marginal hike of Rs 620, whereas TVS's flagship Apache RR 310 motorcycle is the most affected by the price hike decision. However, it's the first time when the brand has increased its prices since the launch of its BS6 iteration.
TVS Jupiter, the brand's best-selling scooter has become dearer by up to Rs 2,770. However, to maintain its dominance in the 110cc segment, TVS has introduced a new base variant designated as 'Sheet Metal Wheel', which obviously misses out on the alloy wheels.