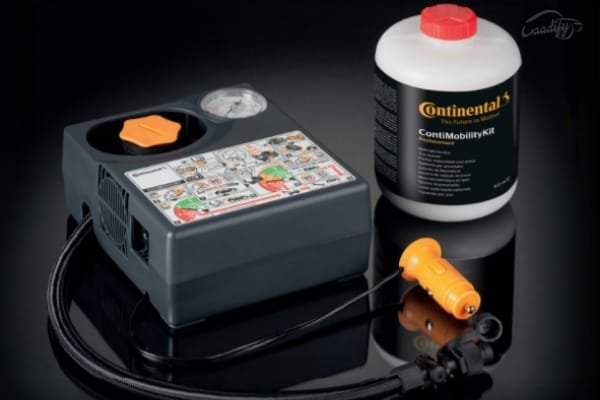 Tata Tiago And Tigor Get Puncture Repair Kit As Standard
Tata Motors has silently introduced a puncture repair kit for the Tiago hatchback and Tigor subcompact sedan as a standard feature across their entire variant line-up. While the Tata duo misses out on a tyre pressure monitoring system (TPMS), they will continue to get the 13-inch steel spare wheels.
Also Read: Decoding The Tyre Nomenclature
What is a puncture repair kit and how does it work?
A puncture repair kit contains an air compressor and a liquid sealant. It eliminates the need for a tyre change in case of an emergency by sealing the punctures in the tire tread. Using a tyre repair kit is quite simple. One can temporarily repair the punctured tyre on its own by following these simple steps: –
Open the sealant bottle and screw it firmly into the compressor unit. After that, plug the air hose onto the air valve of the punctured tyre.
Now, plug the air compressor into the 12V power socket of the car with the engine running and let the pressure-resistant liquid & air feel the tyre to a recommended pressure (check the repair kit manual).
Switch off the compressor and read the actual air pressure from the pressure gauge.
Unplug the compressor and unscrew the hose carefully. Cap the sealant bottle and filler plug again.
Slowly drive the vehicle for 3-10 mins/5-10kms, so that sealant can seal the damaged area. (Do not drive the vehicle faster than 80kmph).
Stop the vehicle and recheck the air pressure. If required, adjust the pressure of the tyre.
Now you can proceed to drive up to 200kms at a maximum permissible speed of 80 km/hr.
Also Read: Best Tyre Inflators for Car, Motorcycle, Cycle or Footballs
The carmaker has not yet announced any change in the prices for the revised feature lists of the 2021 Tiago & Tigor. The entry-level offering from Tata Motors is still priced from Rs 4.85 lakh to Rs 6.84 lakh, whereas its sedan version retails between Rs 5.49 lakh and Rs 7.63 lakh (both prices ex-showroom). Both offerings continue to be powered by a 1.2-litre, 3-cylinder petrol engine (86PS/113Nm), mated to either a 5-speed manual or a 5-speed AMT transmission.