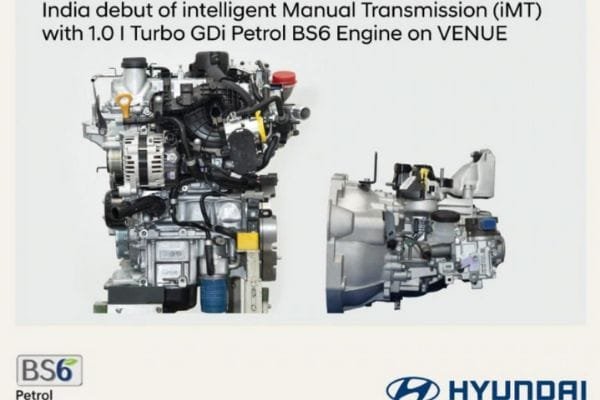 Soon Hyundai Venue Will Get A Clutchless Manual Gearbox
Soon Hyundai Venue will be equipped with a new clutchless manual gearbox called ''Intelligent Manual Transmission (iMT)". Yes, a manual gearbox in which gears can be shift without using a clutch pedal. Hyundai will introduce this new transmission with Venue's 1.0L turbo petrol engine.
How Does It Work?
Like an AMT gearbox, it will be a two-pedal setup with a gear shifting lever. There will be no clutch pedal given in the footwell. The iMT comprises an intention sensor, hydraulic actuator, and a transmission control unit (TCU). When the driver intends to shift the gears, the intension sensor sends a signal to TCU. Then, the TCU sends a signal to the hydraulic actuator which forms a hydraulic pressure. This hydraulic pressure is used by the concentric slave cylinder to engage/disengage the clutch plates. Hence, the complete process of engagement and disengagement of the clutch will be done by the electromechanical method.
When will Venue get iMT?
It is expected to be introduced in the current month only. However, the standard 6-speed MT and DCT will be retained alongside the iMT. It is likely to be featured in more Hyundai-Kia cars. The upcoming Kia Sonet is gonna share its platform & engine options with Venue. Hence, it is expected to get iMT as well.
Author's Take
This system eliminates the need of clutch pressing/depressing operation which will definitely offer convenience, especially in bumper-to-bumper traffic condition, where using a clutch feels annoying sometimes. The iMT can act as a cheaper option to conventional automatic transmissions, where it gives you the advantage to shift gears like a regular manual gearbox without using the clutch. Being an automobile enthusiast, it really excites me because it doesn't take away the driving experience by offering control on desired torque and power output.