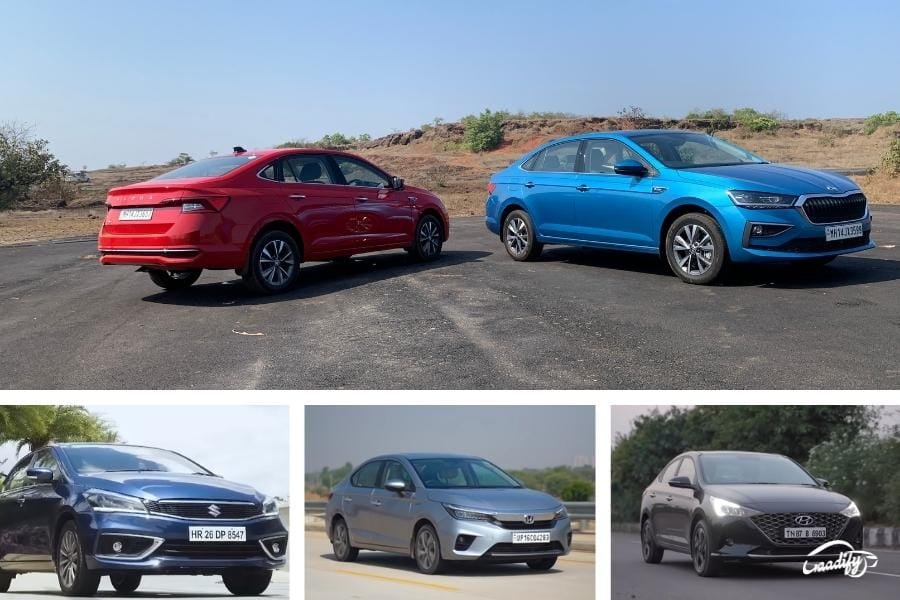 Skoda Slavia Vs Rivals – Spec, Price, and Features Comparison
Skoda has recently launched the Slavia mid-size sedan in India, with prices ranging from Rs 10.69 lakh to Rs 17.79 lakh (ex-showroom). It replaces the ageing Skoda Rapid to rival the established players of the segment such as the Hyundai Verna, Honda City, and Maruti Suzuki Ciaz. So, does this new Czech sedan have the qualities to pose a threat to its challengers? Let's find out.
Skoda Slavia Vs Honda City Vs Maruti Ciaz Vs Hyundai Verna – Dimensions
| | | | | |
| --- | --- | --- | --- | --- |
| | Skoda Slavia | 5th-Gen Honda City | Maruti Ciaz | Hyundai Verna |
| Length | 4541mm | 4549mm | 4490mm | 4440mm |
| Width | 1752mm | 1748mm | 1730mm | 1729mm |
| Height | 1487mm | 1489mm | 1485mm | 1475mm |
| Wheelbase | 2651mm | 2600mm | 2650mm | 2600mm |
| Boot space | 521 litres | 506 litres | 510 litres | 480 litres |
The Skoda Slavia is the widest here and has the longest wheelbase (on par with the Ciaz), while the new-gen Honda City is the longest among all. However, both the Japanese cars have been crafted in such a way that they offer better cabin space than their rivals.
As far as the boot space is concerned, the Slavia has an edge over its competitors.
Also Read: Skoda Slavia Accessories Detailed With Prices
Engine Specifications
Since the Skoda Slavia is a petrol-only offering, we have only compared the petrol powertrains of all the cars here.
Skoda Slavia
Honda City
Hyundai Verna
Maruti Ciaz
Petrol Engine
1L /  1.5L turbo
1.5L
1L turbo / 1.5L NA
1.5L petrol with mild-hybrid tech
Max Power
115PS / 150PS
121PS
120PS / 115PS
105PS
Peak Torque
178Nm / 250Nm
145Nm
172Nm / 144Nm
138Nm
Transmission
1.0 turbo: 6-speed MT, 6-speed AT
1.5 turbo: 6-speed MT, 7-speed DSG
6-speed MT, 7-step CVT
1.5 NA: 6-speed MT, CVT
1.0 turbo: 7-speed DCT
5-speed MT, 4-speed AT
Claimed Mileage
1.0 turbo: 19.47kmpl (MT), 18.07kmpl (AT)

1.5 turbo: 18.72kmpl (MT), 18.41kmpl (DCT)
17.8 kmpl (MT), 18.4 kmpl (CVT)
17.7 kmpl (MT), 19.2kmpl (turbo-DCT)
20.65 kmpl (MT), 20.04 kmpl (AT)
The Hyundai Verna is the only car here that comes with both naturally-aspirated and turbocharged petrol engine options, while the Skoda Slavia gets two turbo-petrol mills. On the other hand, the Honda City and Maruti Suzuki Ciaz come with naturally aspirated motors.
Skoda Slavia's 1.5-litre turbocharged petrol engine is the most powerful and torquiest unit of the lot. It also gets Active Cylinder Technology (ACT) which shuts off two cylinders to ensure optimum fuel efficiency.
Speaking of the naturally aspirated petrol engine, the Honda City tops the chart here. In fact, its power figures are more than that of the 1.0-liter turbocharged mills of the Hyundai Verna and Skoda Slavia.
In terms of mileage, Maruti undoubtedly leads the segment.
Features
| | | | | |
| --- | --- | --- | --- | --- |
| Features | Skoda Slavia | Honda City | Hyundai Verna | Maruti Ciaz |
| Auto Headlamps | ✅ | ✅ | ✅ | ✅ |
| Rain-Sensing Wipers | ✅ | ✅ | – | ✅ |
| Touchscreen Infotainment | 10.1-inch | 8-inch | 8-inch | 7-inch |
| Apple Carplay and Android Auto | Wireless  | Wired | Wired (SX (O)), wireless (S+, SX) | Wired |
| Connected Car Tech | ✅ | ✅ | ✅ | ✅ |
| Remote engine start with AC control | – | ✅ | ✅ | ❌ |
| Voice Assistant | ❌ | ✅ (Alexa) | ✅ (BlueLink) | ❌ |
| Sunroof | ✅ | ✅ | ✅ | ❌ |
| Height-adjustable driver's seat | ✅ | ✅ | ✅ | ✅ |
| Push Button Start/Stop | ✅ | ✅ | ✅ | ✅ |
| Auto AC | ✅ | ✅ | ✅ | ✅ |
| Rear AC Vents | ✅ | ✅ | ✅ | ✅ |
| Ventilated front seats | ✅ | ❌ | ✅ | ❌ |
| Paddle Shifters | ✅ | ✅ | ✅ (turbo) | ❌ |
| Digital Cluster | ✅ | ❌ | ✅ | ❌ |
| Wireless phone charger | ✅ | ❌ | ✅ | ❌ |
| No of Airbags | 6 | 6 | 6 | 2 |
| Cruise Control | ✅ | ✅ | ✅ | ✅ |
| Electronic Stability Control | ✅ | ✅ | ✅ | ✅ |
| Hill Hold Assist | ✅ | ✅ | ✅ | ✅ |
| Tyre pressure monitoring system | ✅ | ✅ | ✅ | ❌ |
| Front Parking Senros | ❌ | ❌ | ✅ (turbo) | ❌ |
| LaneWatch camera | ❌ | ✅ | ❌ | ❌ |
Price
| | | | | |
| --- | --- | --- | --- | --- |
| | Skoda Slavia | Honda City | Hyundai Verna | Maruti Ciaz |
| Ex-showroom Price (Petrol Only) | Rs 10.69 – 17.79 lakh | Rs 11.23 – 14.98 lakh | Rs 9.32 – 14.27 lakh | Rs 8.87 – 11.86 lakh |
Skoda Slavia Review: –