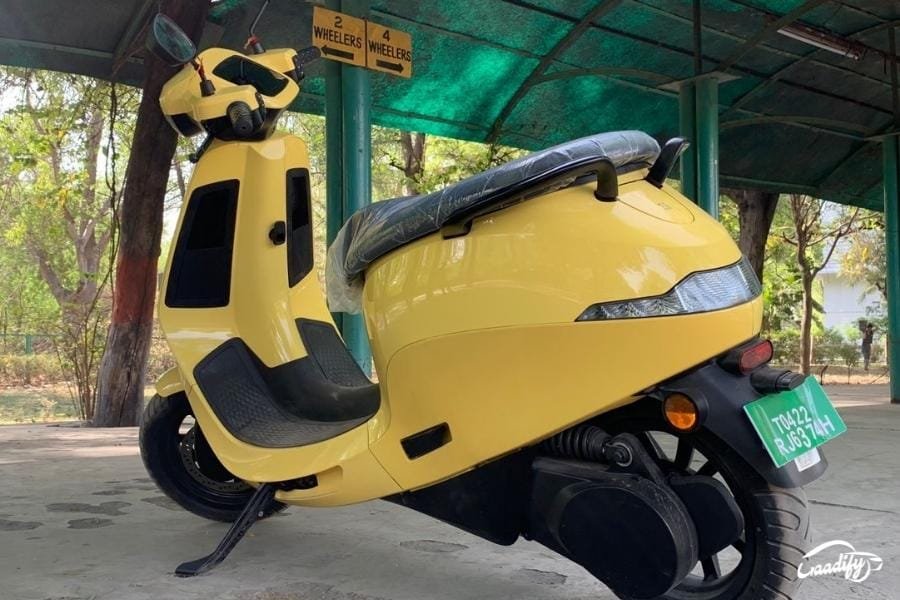 Ola S1 Pro Electric Scooter: Pros, Cons, and Should You Buy It?
The Ola S1 electric scooter has been around for almost a year and was recently updated with MoveOS 2.0 software update. So should you go for this to nullify the skyrocketing fuel prices, or do you need to explore other options? To find out, we list down the pros and cons of the Ola S1 Pro variant: –
Things we like about Ola S1 Pro (Pros)
Attractive looks: The Ola S1 looks futuristic and appeals to everyone on the road. Furthermore, the brand offers as many as 10 attractive color options with the e-scooter, making it an even more appealing option.
Impressive Range, Peppy Performance: Ola's 5.5kW IPM motor offers a peak putout of 8.5kW and 58Nm, which allows it to hit the 40kmph mark in just 3 seconds before attaining a top speed of 115kmph in Hyper mode. So you don't have to think twice before quick overtakes. Also on offers its four riding modes (Eco, Normal, Sport, and Hyper) to best suit your mood. However, the initial throttle response in Eco and Normal mode feels slightly sluggish. Nevertheless, it offers a claimed range of up to 170 kilometers in Eco mode, making it an ideal choice for a stress-free range for daily use. Even in Normal mode, you'll effortlessly get over 100km real-world riding range.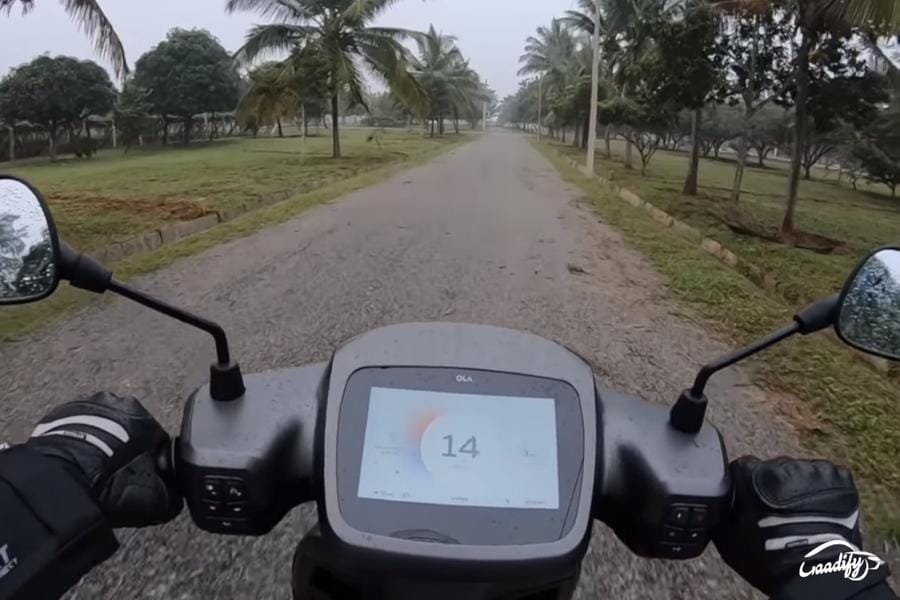 Outstanding Ride Quality: The ride quality of the Ola S1 Pro is good as it absorbs the roughness of the road very comfortably. The handling of the scooter is also quite admirable thanks to its low center of gravity and favorably grippy MRF tires. The seat too is well-padded & comfy, and long enough for two persons.
Best-in-Class Features: The Ola S1 Pro comes loaded with high-tech features such as all-LED lighting system, a 7-inch touchscreen rider's display with Bluetooth connectivity, keyless access, multiple riding mode, reverse assist, on-board navigation, cruise control, OTA updates support, apron-mounted A-type USB charging port, and even two speakers to enjoy music on the go. Many more features will be offered in near future via software updates.
Gigantic BootSpace: The Ola S1 range offers a large boot space of 32-litres which is big enough for your daily needs. However, it would have been better if Ola had offered a boot light as well.
Competitive Pricing: The pricing of Ola scooters is tempting enough to make you think about it.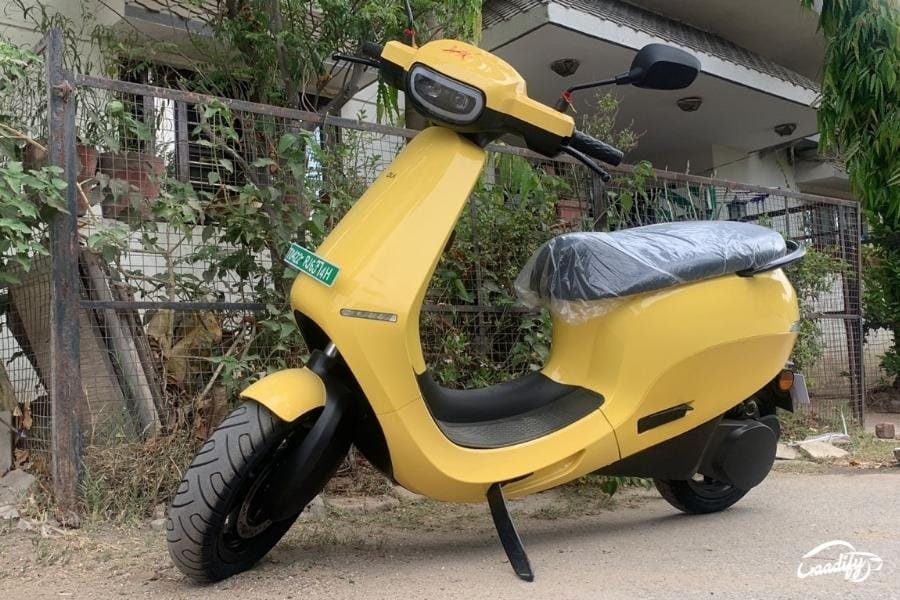 Also Read: Ola Electric Developed Its First Li-ion Battery cell!
Things that could have been better (Cons): –
Software Glitches: Due to various software issues, many features of Ola S1 Pro may not always work properly. Furthermore, the model I got for testing had a locking problem that required multiple attempts to lock and unlock its handle.
Sudden Range Drop: The biggest issue with Ola S1 Pro is the sudden battery drain that you might experience even while riding, which makes it pretty unreliable. What's more pathetic is that Ola Electric asks its customers to reboot the scooter weekly to avoid such situations. The EV manufacturer must find a solid solution for this problem.
No Mechanicals: Digitizing the entire experience feels cool and futuristic. However, the scooter and its boot cannot be unlocked if the battery is completely drained. Your situation will further worsen if you've locked the charger inside the boot.
Built Quality: Ola Electric has extensively used plastic material to keep the weight of the scooter under control, so a minor accident could prompt the replacement of the entire bodypanel which would be in contact during mishap. Also, the switchgear, wing mirros and side stand feel of low quality.
Gradeability: Since the Ola S1 and S1 Pro have a low gradability of 12 degrees, climbing uphill roads or flyovers will be a problem for you, especially in Eco mode. However, you can climb smoothly in normal mode under low load condition.
No Accessories: It's almost a year since Ola launched the S1 electric scooter in India, but till now no essential accessories have been launched for it. Ola should have at least offered a sidestep for women keeping the Indian families in mind.
Late Features Arrival: Though the Ola S1 Pro feels feature-rich, many features such as hill hold assist, call assist, voice assistant, regen modes, screen modes, etc., promised at the time of launch, are still pending to be offered. The brand claims these will be introduced during the festive season via MoveOS 3 OTA updates.
No Adaptive Brightness: The 7-inch touchscreen rider's display of Ola S1 and S1 Pro is quite responsive and bright enough to use even in harsh lighting conditions. It also gets two display modes, including Dark Mode, for use at night. However, unlike your smartphone, it misses out on the adaptive brightness functionality.
Other Major Misses: Some other major misses includes a flat floorboard and removable battery pack.
Digital Sales & Service Model: Since Ola Electric works on a dealerless support model, the first point of contact for customers is Ola's customer care call center. Yes, the service centers ensure that the issues are resolved in less time. But if you live in tier 2 or tier 3 cities, the service team might take up to 72 hours to resolve your issues.
Also Read: 2022 TVS iQube Vs Ola S1 Pro Vs Ather 450X: Spec, Features, and Price Comparison
Author's Take
It is undeniable that the Ola S1 Pro looks quite attractive package on paper and can be a good option for those who want a feature-rich styling EV. But even after almost a year of launch, this product still has many problems that need to be fixed. Ola Electric must acknowledge and solve these problems at the earliest to dominate the two-wheeler EV space.