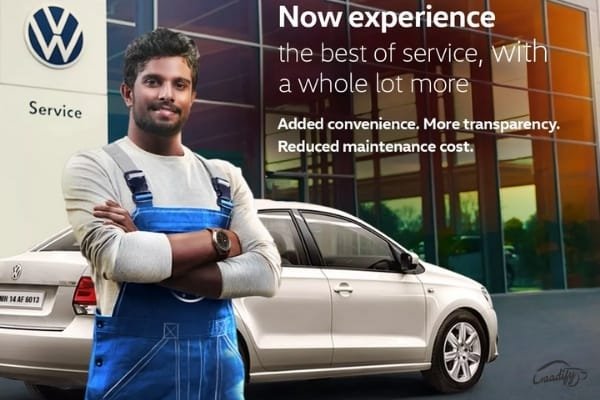 Now Servicing Your Volkswagen Car Will Be More Affordable With These Initiatives
The cost of ownership is a vital factor when buying a new car. And that's one of the biggest reasons that the majority of customers opt for local OEMs over the global brands as their maintenance is comparatively higher because their parts, in some cases, need to be imported. However, to change this perspective and improve the overall after-sales experiences, German automaker Volkswagen has just announced some new service initiatives that are as follows: –
Also Read: Volkswagen Tiguan Facelift Launch Pushed To June 2021
Lower spare parts and engine oil costs: – Volkswagen has reduced the prices of spare parts by up to 11%, whereas the prices of petrol model's engine oils have been gone down by nearly 32%.
Volkswagen service cam: – Under this initiative, the Volkswagen service centers will inform the customers and seek their permission for any unexpected or additional repairs to their vehicle. The brand will also make an inspection video and will show the customers what part requires repair or replacement.
Service cost calculator: – To increase transparency, Volkswagen has launched the Service Cost Calculator which will be available on the brands' official website. This will allow the VW customers to get an estimated value of their next service. This initiative showcases Volkswagen's 'One-Price' promise that is applicable across India and can be verified by the customer.
Volkswagen assistance and mobile service units: – The brand is expanding its Volkswagen Assistance and Mobile Service Units fleet, covering nearly 80% of the country. For the people not in know, it offers doorstep solutions for a small repair, inspection, and maintenance jobs. It also conducts service operations in remote locations.
The German maker has also announced to provide various benefits of up to 24% through Service Value Packages to deliver complete peace of mind.
With all these initiatives, Volkswagen claims that the periodic maintenance of VW's best-selling carlines Polo & Vento has been reduced by around 23-25% (depending on the variant).
Also Read: 2021 Volkswagen Polo Facelift Revealed, Will It Launch In India?
Commenting on the initiatives, Mr. Ashish Gupta, Brand Director, Volkswagen Passenger Cars India said–
At Volkswagen, one of our key endeavors is to offer our customers a strong value proposition across our products and services. With the enhanced service strategy, we aim to offer our customers global service standards and peace of mind ownership experience by servicing a Volkswagen vehicle through highly qualified and trained service technicians. Their expertise coupled with our efforts towards reducing cost of ownership, accessibility and providing a holistic experience makes Volkswagen a preferred brand among consumers.