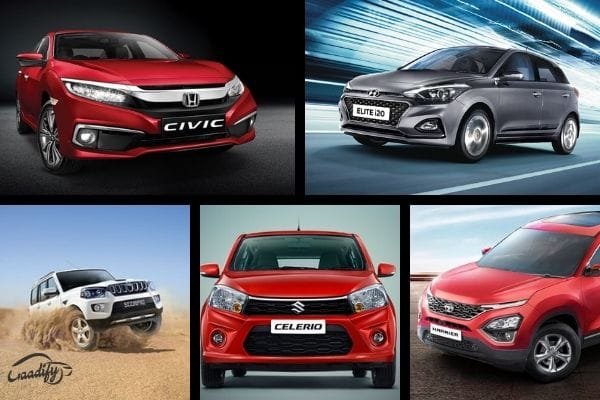 Navratri 2020 Offers: Top 10 Offers On Cars That You Shouldn't Miss
The festive season in India can easily be regarded as the best time to drive home your favourite car. The benefits up for grab can generally be availed in the couple month-long window spanning October-November. The companies are offering attractive discount deals this month and they are worth checking out.
Through this article, we intend to list top 10 offers up for grabs in October 2020 –
Mahindra Alturas G4 (up to Rs 3.06 Lakhs)
Rs 2.2 Lakh Cash discount
Rs 50,000 exchange bonus
Rs 16,000 corporate discounts
Rs 20,000 discount on accessories
The full-size Mahindra Alturas G4 SUV is an impressive offering. It is massive and well-loaded offering packs in the punch to stand tall against its rivals. It has not really been able to crunch up great sales numbers, thanks to established players like Toyota Fortuner and Ford Endeavours to attract most of the buyers in this segment. With benefits worth Rs 3.06 Lakhs up for grabs, driving one home could really prove to be a steal of a deal.
Also Read: This Navratri Season Save Up To Rs 3.06 Lakhs On Mahindra Cars
Honda Civic (up to Rs 2.5 Lakhs)
Rs 2.5 Lakhs cash discount (Diesel)
Rs 1 Lakh cash discount (Petrol)
Civic has been a successful car for Honda and has established great goodwill for the brand globally. It has always sported stunning looks and the update has only added to the charm, apart from that, tonnes of advanced features, great build quality are some of the virtues that the executive class sedan gets. Cash discounts worth Rs 2.5 Lakhs, that too on a car of Civic's class sound like once in a blue moon deal.
Also Read: Save Up To Rs 2.5 Lakh On Honda Cars This October
Hyundai Elantra (up to Rs 1 Lakh)
Rs 70k cash discounts (Petrol manual) / Rs 30k cash discounts (Petrol Automatic)
Rs 30k exchange bonus (both petrol and diesel)
Hyundai's answer to take on Civic, Elantra is also being offered with good discount deals and can definitely be considered. The Hyundai sedan, like its Honda counterpart, has been around for a while and has done pretty well.
Renault Duster (up to Rs 1 lakh)
| | | | | |
| --- | --- | --- | --- | --- |
| Model | Cash Discounts | Exchange Bonus | Corporate Discount OR Rural offers | Loyalty Bonus |
| Duster (1.5L model) | Up To Rs 25,000 | Up To Rs 25,000 | Up To Rs 30,000 (Corporate) / Up To Rs 15,000 (Rural) | Up To Rs 20,000 |
| Duster (1.3L Turbocharged model) | | | Up To Rs 30,000 | Up To Rs 20,000 |
Duster is being offered with discounts worth Rs 1 lakh for grabs. The loyalty bonus can either be availed in the form of an exchange bonus or they are provided to buyers as a cash discount if they buy another Renault model. The RXE variant Of Duster SUV is only entitled to the loyalty discount of Rs 20 000 and cash benefit of Rs 50 000. No other offer or benefit will apply to the particular variant. The French maker is also offering an Easy Care Package of 3 years or 50,000 km with the 1.3L turbocharged model for the existing DUSTER owners (any variant) who is willing to buy an additional DUSTER 1.3L Turbo or exchanging their current DUSTER (any variant) for a DUSTER 1.3L Turbocharged model.
Also Read: Save Up To Rs 70,000 On Renault Duster, Kwid And Triber
Hyundai Elite i20 (up to Rs 75k)
Discount offered on Sportz variant
Rs 50k cash discount
Rs 20k exchange bonus
Rs 5k corporate
The launch of third-generation Elite i20 is just around the corner. Though Elite i20 is still a pretty decent offering, with the update it will make life more difficult for its competitors. This is the reason why despite selling in great quantities, Elite i20 gets handsome discount deals.
Also Read: Buy A Hyundai Car This October And Save Up To Rs 1 Lakh
Tata Harrier (up to Rs 65k)
All variants – Rs 25k cash discounts + Rs 40k exchange bonus
Black edition – Rs 40k exchange bonus
The Stylish mid-sized Tata Harrier SUV is an impressive offering, despite selling decently it gets attractive discount deals. While all the regular variants get both cash discount and exchange bonus deals, the Black edition misses out on cash discounts and is being offered only with an exchange bonus
Also Read: This Navratri Season Save Up To Rs 65,000 On Tata Tiago, Nexon, Tigor & Harrier
Hyundai Grand i10 BS6 (Rs 60k across the range)
Rs 40k cash discounts
Rs 15k exchange bonus
Rs 5k corporate discount
Even after the Grand i10 Nios was launched, Hyundai has continued selling the Grand i10, and the mid-sized hatchback has been offered with fairly attractive discount deals, especially considering that it belongs to the cut-throat priced budget segment. At the discount of Rs 60k, which is consistent along with the entire range, Grand i10 is definitely worth checking out if you are tight on budget and want a reliable ride.
S5 trim – Rs 20k cash discount + Rs 25k exchange + Rs 10k accessories + Rs 5k Corporate
S7, S9, S11 trims – Rs 25k exchange + Rs 5k corporate
One of the most famous SUV in the Indian market has enjoyed a fair share of popularity, thanks to a tall seating position, muscular designing and competitive pricing. The base variant can be driven home with discount deals worth Rs 60,000 up for grabs. The higher S7, S9 and S11 trims get benefits worth Rs 30,000
Mahindra KUV100 NXT (up to Rs 62k)
Up to Rs 33,050 – Cash discount
Up to Rs 20,000 – Exchange bonus
Up to Rs 4,000 – Corporate discount
Up to Rs 10,000 – Accessories
The entry-level Mahindra offering is priced between Rs 4.69 lakh and Rs 7.76 lakh (ex-showroom, Delhi) and getting a discount over Rs 62k is huge for the car. If you're looking for a 6-seater compact car in tight budget section than KUV100 can be a good option for you.
Mahindra XUV500 (up to Rs 56k)
Up to Rs 12,760 – Cash discount

Up to Rs 30,000 – Exchange bonus

Up to Rs 9,000 – Corporate discount

Rs 5,000 – Accessories
The XUV500 is a quite popular SUV in the mid-size segment and despite its huge following, the brand is offering discount up to Rs 56k which clearly indicates that its next-generation model is around the corner. It has been spied many times during testing. To know more about Next-gen Mahindra XUV500, click here.
Also Read: This October Maruti Suzuki Offering Benefits Up To Rs 72,000
Maruti Suzuki Celerio (up to Rs 53k)
Rs 28k cash discounts
Rs 20k exchange bonus
Rs 5k corporate discount
Celerio was Maruti's first AMT car. It is quite popular among the buyers on a tight budget section and fleet operators. It provides fantastic value as a small car that will be used for city commutes. Packs in all the essential features as well. Discount deals worth Rs 53,000 does sound like a good deal.