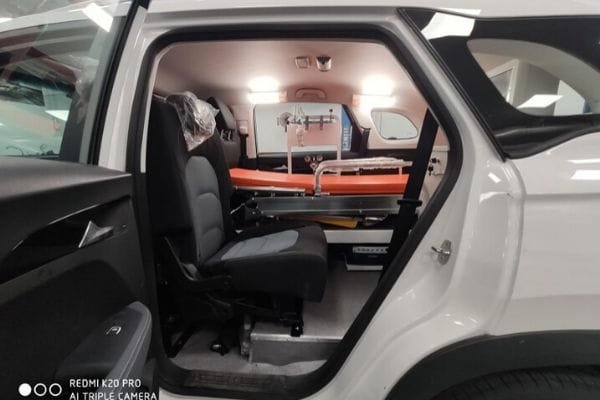 MG provides Hector as an ambulance
MG Motors, India has stepped up yet again to help our country fight the COVID pandemic. MG motors have retrofitted their offering, the Hector into an ambulance.
MG motors earlier contributed 100 of their SUVs to help the health and police workers. Post lockdown, their service centres will be open for sanitisation of police vehicles absolutely free of cost.
This is a really appreciable initiative considering the fact that there may arrive a future need for equipment and aids for emergency health services.
MG Hector Ambulance: How did they do it?
The Hector boasts of 4.5m length which makes it more than qualified for the job. The manufacturer got rid of the back row completely. So the space created along with the boot now houses an imported auto-loading stretcher and complete oxygen system with the cylinder.
It also comes with a medicine cabinet with a five parameter monitor to keep an eye on the patient's position.
Besides the stretcher comes a jump seat for the attendant and also reusable rear seats to keep up with their finances. It also comes with a fire extinguisher and in-cabin lights. All of these are powered by an inverter with batteries and sockets.
The retrofitting was done on priority based on urgent need by administration facilities in Baroda. The complete turnover took just 10 days. We can hopefully expect these in other parts of the country as well.
Author's take
This gesture from MG is really appreciable. It fills us with an immense hope to see these big companies coming to public support selflessly. But this also makes a stronger case for MG in the market and very rightly so.
This proves the adaptability and versatility of their product and should garner public support. Please don't consider me insensitive to see motives in such action. To be clear, anyway motives involved or not, such actions should always be very welcome because they are directly serving the public in times of need.
According to me, this should make the consumers think about the innovation and dedication MG brings about, giving them that extra bit of confidence.