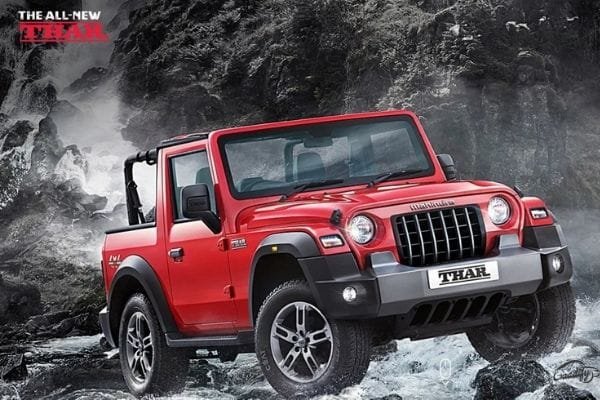 Mahindra Thar Deliveries Are Delayed Due To Short Supply Of Semiconductors
Second generation Mahindra Thar is one of the most popular SUVs in the Indian market. Launched in October 2020, the off-roader currently is commanding a huge waiting period of up to 8-9 months, depending on the variant. However, to overcome the waiting time, Mahindra has ramped up the production, but still, deliveries are being lingered even though the units are arriving at dealerships, and this time the delay is due to the low supplies of semiconductors.
For the people not in know, different types of semiconductor are used in modern automobiles, including signal processors, analog ICs, sensors, receivers, transmitters, and memory, etc. In the last decade, the use of semiconductors has been increased as vehicles are becoming more advance and connected, and hence, automobiles nowadays comprise various types of computer-based systems that revolve around software codes, such as infotainment systems, connected techs, telematics features, tire pressure monitoring system, driver's display, ECU and many more.
The second-gen Mahindra Thar comes offered with a 7.0-inch touchscreen infotainment system that offers a host of features like Android Auto and Apple CarPlay smartphone connectivity, tire pressure monitor, Mahindra's Ecosense, Adventure Statistics for off-roading ventures, roll-pitch meter, and an altimeter, etc. The shortage of semiconductors has forced the carmaker to ship Thar units to dealerships without an infotainment system. Though Mahindra cannot deliver these models to owners till the displays are fitted in the vehicles, dealerships are in the meantime inviting customers to experience their Thar.
As of now, the Mahindra Thar is available in two trims: AX (O) and LX, with factory-fitted convertible soft top and fixed hardtop roof options. Both these trims get the choice of petrol and diesel engines. While the AX (O) trim can only be had with a 6-speed manual gearbox, the LX trims get both manual and 6-speed automatic transmission options. It is priced from Rs 12.10 lakh to Rs 14.15 lakh (ex-showroom Delhi).
In the other news, Mahindra could also introduce Thar's unique convertible hardtop roof variant along with some new exterior shades.
Mahindra Thar City & Highway Performance Review: –