Kia Carens: Unparallel Potential | Special Feature
There are certain things that we Indians desire in our cars. We want our vehicles to be full of luxury and features. We solicit contemporary design, but we cannot renounce space and practicality. We want our cars to have more grunt, but at the same time, they must go back and forth at most on a liter of fuel. Yes, the package should also include superior handling, and that too, not at the cost of ride quality. And above all, all this should be at the lowest possible price. Now, this is a tall order, but if anyone has managed to provide a solution, it is Kia India. The Korean carmaker entered our nation in August 2019 with the Seltos SUV and won our hearts immediately. And the Carens is the latest Kia, and we really found it value for money in our comprehensive road test last month. 
As you all know, it's the wedding season, and I am at the age where most of my pals are getting married. And so, I, one of our mutual friends, and Kia Carens set out to travel from Jaipur to Bikaner to be a part of one of such bliss moments. We started our journey from Jaipur around 1 pm, as the friend who was supposed to be landed on my shores from Silicon Valley of India around 12 pm. Since he came here for a week, he was carrying large and medium-size baggage, and there was my backpack too. The Carens come with 216-liter boot space, and it surprisingly stows all the luggage. 
Our next destination was Jodhpur, from where we had to pick up four more friends. But the main hurdle was getting through the city gridlock. Thankfully, once we crossed the bypass road, the traffic wasn't too dense, and the two-pedal convenience of the Carens made our going easy. Correspondingly, its in-built air purifier saved us from inhaling the NOx and CO-laden air of the Rajputana's metropolitan city, and we smoothly headed towards Jodhpur along the NH48. 
Jodhpur is the second-largest city in Rajasthan and is located around 351 kilometers west of the state capital. With an altitude of 231 meters, its temperature ranges from 12°C in winters to 48°C in summers. Yes, the weather sometimes becomes terribly hot in Rajasthan, but we were comfortable thanks to the intelligent auto climate control in the Kia Carens. The roads along this route are smooth-surfaced, and the Kia Carens wasted no time gobbling up miles of tarmac. The 6-speed torque converter automatic transmission on the Kia Carens was super smooth with crisp shifts, and its 250Nm torquey 1.5-liter diesel engine does its job well. The refinement of the engine is something that you will definitely appreciate. However, what I love the most is the fit & finish and functionality of the cabin. The front seats offer excellent comfort, providing the right amount of cushioning. It also gets tons of comfort & convenience features, including the wireless smartphone charger, cruise control, and Apple Carplay and Android Auto support for easy smartphone integration. Its angled 10.25-inch infotainment display is comfortably visible even on bright and sunny days. The infotainment also integrates MapMyIndia satellite navigation, and trust me, that's a boon. It also supports voice search. So, gone are the days of the tedious address input.
Our first stop on our journey was Kishangarh (just for refreshments), a municipal council in the Ajmer district. It is the birthplace of the Kishangarh style of painting, in which men/women are drawn with pointed noses, thin lips, profoundly curved eyes, and twisting locks of hair. The paintings of Bani-Thani (Radha), a chef-d'oeuvre of Kishangarh painting, are recognized across the world. This place is also known for its marble market.
Also Read: Kia Carens After Sales Packages Introduced For Extended Warranty and Maintenance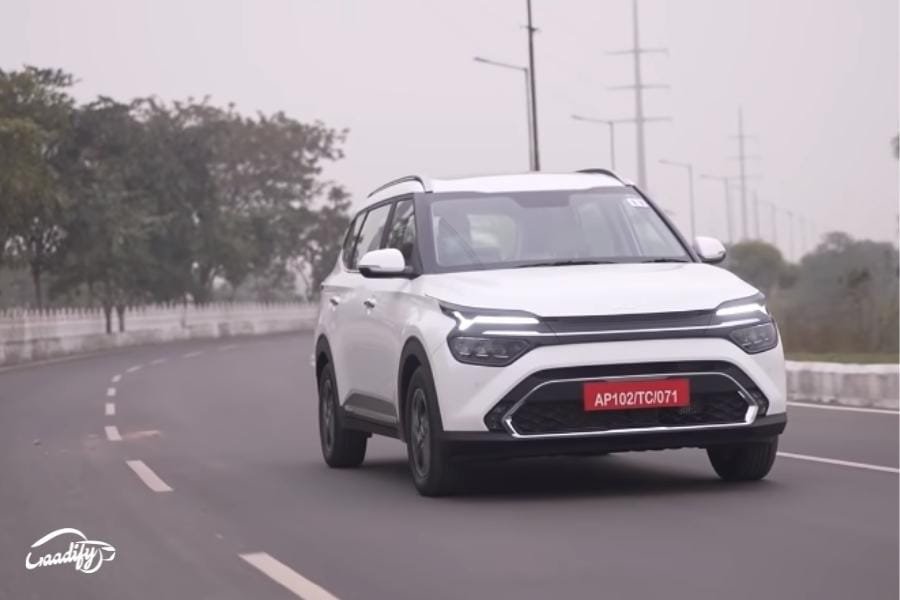 After a short halt at the Marble City of India, we shifted the Carens into the Sport mode and made most of the grunt from its CRDI mill as we had a good many kilometers to go to reach Jodhpur before dark. The difference is distinctly felt in the sportier driving mode with a more rapid throttle response from the engine. Spiralling on the highway was an enjoyable experience in the Carens as it feels stable even on three digits. However, clinging to the roads around the curves is a bit challenging as there is an ample amount of body roll. But yes, that is fine with such huge dimensions of the car. 
Located on a hilltop, the majestic Mehrangarh Fort, meaning 'fort of the sun', welcomes you as you enter the Suncity. It was constructed around 1459 by Rajput ruler Rao Jodha, making this place the capital of Marwar.
Coming back to our journey, we picked up our friends from their homes. And since its boot space was already full, we decided to fold one of its third-row seats to manage our mates' four medium-sized trolly and backpacks. And now, we have six seats left to sit on, including the driver's seat. And since I was a bit tired, I headed to the rear seat, and one of my recently boarded friends took charge of the remaining journey. However, there was a conflict between us as no one was willing to go to the last seat. Being the scapegoat, I agreed to sit in the third row. And as I electrically tumbled down the middle row seat, the sense of third-row space overwhelmed me. Compared to the other 7-seater cars of its category, it offered reasonable comfort as the seats have a good reclining angle. In my opinion, they are well suited for short journeys, even for six-footers, with a slight adjustment of the second-row seats. That said, the 2nd-row seats come with a slide, recline and tumble fold functions, offering tons of legroom and a comfy seating position. There's adequate space for three average-sized adults to sit, and its almost flat floor makes it more convenient for the middle-seat passenger. The Carens' large windows allow a fabulous view out and its roof-mounted air-con vents are effective enough to make you feel comfortable even in TAPTI-JALTI GARMI. There's also a dedicated retractable table and blower control too in the middle row, cup/bottle holders on either side and USB Type C charging ports, making the rear row seats more liveable for a long trip.
Also Read: Kia Carens: Which Variant Offers The Most Value?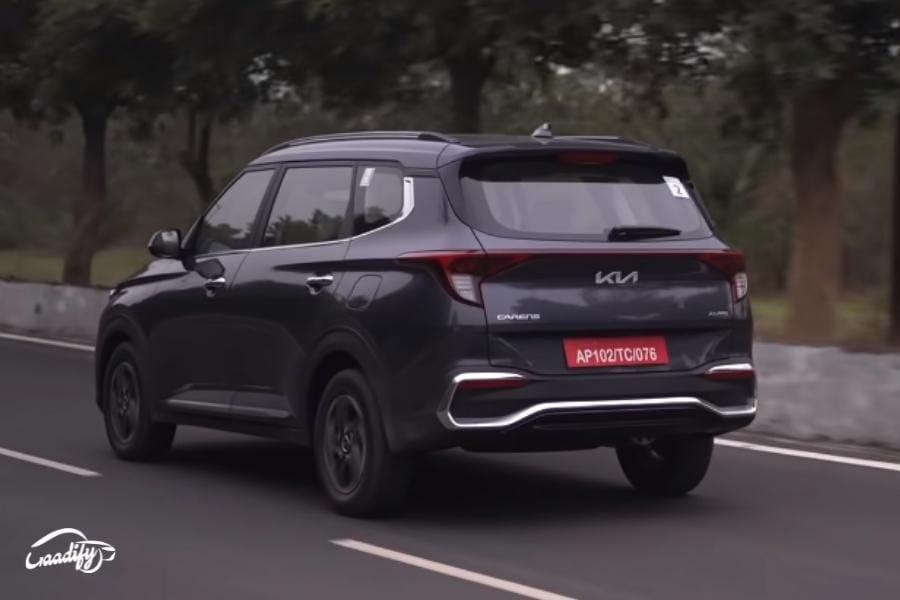 The ride quality of the Kia Carens is also good, and I was glad that I picked the Kia Carens to be our companion on this trip. It's a solidly built car that will surely amaze you with its overall package. It's easy to drive, offers plenty of comforts, convenience, and safety features, has more sophisticated drive options, and most importantly, its cabin is quite a nice place to be in. However, its frugal nature will truly amaze you. All in all, the Kia Carens is a fabulous product in its category, and you can definitely think of putting your money on it.
Km done: 1167
Fuel efficiency: 16.7 kmpl
Things we like: Impressive design, practical cabin, a wide range of powertrain options, frugal diesel engine, and comprehensive standard safety kit.