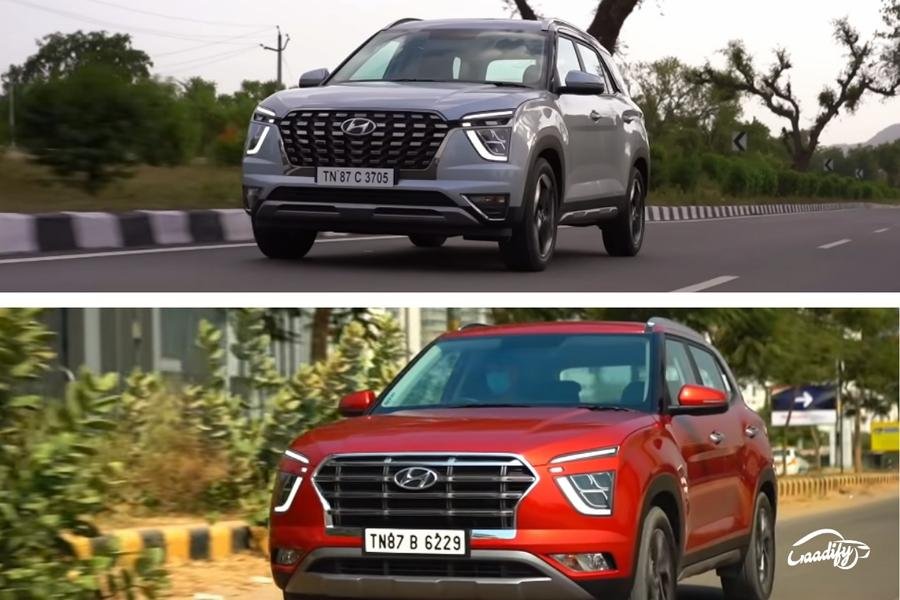 Hyundai Creta and Alcazar Get More Safer; Prices Increased
The Hyundai Creta and its three-row sibling, the Alcazar, have received a series of updates for 2023, accompanied by a price hike. Here are the details: –
The Hyundai Creta and Alcazar now get six airbags as standard across all variants. Earlier, only driver and passenger airbags were standard across the range. In addition, the Creta now also offers electronic stability control, hill hold assist, vehicle stability management, rear disc brakes, seatbelt height adjustment, and ISOFIX child seat anchors, right from the base E variant.
The Creta now also comes standard with a 60:40 split/fold rear seat – this was previously available from SX trim onwards.
The carmaker has also discounted the S iMT variant of the Creta, probably due to its low demand.
Also Read: 2023 Hyundai Venue Launched With New Diesel Engine; Prices Increased
Both SUVs have also been updated with the upcoming emission norms, i.e., the Bharat Stage 6 Phase 2.
Hyundai has also introduced an integrated starter generator (ISG) in the Creta and Alcazar that will facilitate the idle start-stop functionality and assist in increasing fuel efficiency.
The petrol engine of the Hyundai Creta is now E20 compliant, which means it can now operate on 20 per cent ethanol-blended fuel. As ethanol is more corrosive than gasoline, some modifications have been made to the fuel systems, engine calibration, and rubber hoses.
With all these changes, the prices of the Hyundai Creta have gone up by up to Rs 45,000. With this, it now ranges from Rs 10.84 lakh to Rs 19.13 lakh (ex-showroom, India). On the other hand, the Hyundai Alcazar retails between Rs 16.10 lakh – Rs 21.10 lakh (ex-showroom Delhi). Here's a look at their variant-wise prices: –
Hyundai Creta Prices
| | | |
| --- | --- | --- |
| Hyundai Creta | New Price | Quantum of Price Hike |
| Petrol Variants | | |
| E | Rs 10.84 lakh | +Rs 20,000 |
| EX | Rs 11.78 lakh | +Rs 20,000 |
| S | Rs 13.03 lakh | +Rs 20,000 |
| S+ KNIGHT EDITION | Rs 13.93 lakh | Rs 20,000 |
| SX EXECUTIVE | Rs 13.99 lakh | +Rs 20,000 |
| SX | Rs 14.78 lakh | +Rs 20,000 |
| S+ TURBO-DCT | Rs 15.79 lakh | +Rs 20,000 |
| SX CVT | Rs 16.26 lakh | +Rs 20,000 |
| SX (O) CVT | Rs 17.46 lakh | +Rs 20,000 |
| SX (O) KNIGHT EDITION CVT | Rs 17.63 lakh | +Rs 20,000 |
| SX (O) TURBO-DCT | Rs 18.34 lakh | +Rs 20,000 |
| Diesel Variants | | |
| E | Rs 11.89 lakh | +Rs 45,000 |
| EX | Rs 13.17 lakh | +Rs 45,000 |
| S | Rs 14.44 lakh | +Rs 45,000 |
| S+ KNIGHT EDITION | Rs 15.40 lakh | +Rs 45,000 |
| SX EXECUTIVE | Rs 15.43 lakh | +Rs 45,000 |
| SX | Rs 16.25 lakh | +Rs 45,000 |
| SX (O) | Rs 17.53 lakh | +Rs 45,000 |
| SX (O) AT | Rs 18.93 lakh | +Rs 45,000 |
| SX (O) KNIGHT EDITION | Rs 19.13 lakh | +Rs 45,000 |
Hyundai Creta Price List – 2023
Hyundai Alcazar Prices
| | | |
| --- | --- | --- |
| Hyundai Alcazar | Petrol | Diesel |
| Prestige Executive (7-seater) | Rs 16.10 lakh | Rs 16.71 lakh |
| Prestige (7-seater) | – | Rs 17.71 lakh |
| Prestige Executive (O) (7-seater) | – | Rs 18.18 lakh |
| Prestige (O) (7-seater) | – | Rs 19.17 lakh |
| Platinum (7-seater) | Rs 18.60 lakh | Rs 19.61 lakh |
| Signature (6-seater) | Rs 19.04 lakh | Rs 20.10 lakh |
| Platinum (O) AT (6/7-seater) | Rs 19.86 lakh | Rs 20.74 lakh |
| Signature (O) AT (6/7-seater) | Rs 20.15 lakh | Rs 20.85 lakh |
Hyundai Alcazar Price List – 2023