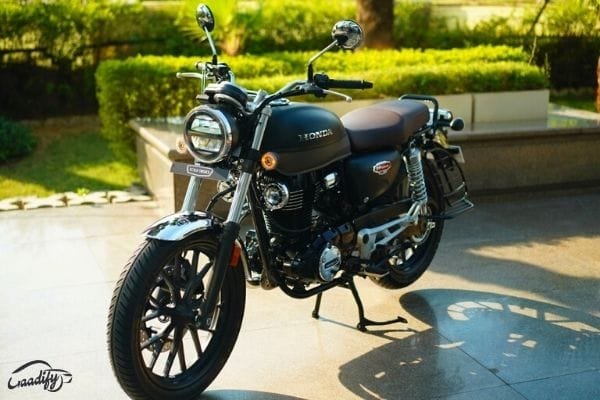 Honda Hness CB350 Official Accessories, Free Service, Extended Warranty & RSA Details Revealed
Honda H'Ness CB350 has been launched in India with prices ranging from Rs 1.85 lakh (ex-showroom). Like its rival Royal Enfield Classic 350, the Highness also gets various accessories and add-ons to personalize the bike. Here's a detailed list of official accessories: –
| | |
| --- | --- |
| H'Ness CB350 Official Accessories | Prices |
| Tank Pad | Rs 309 |
| Side Stand | Rs 375 |
| Engine Lower Pipe | Rs 465 |
| Front Fork Gaiters | Rs 581 |
| Pannier Support A | Rs 643 |
| Pannier Support B | Rs 697 |
| Engine Guard | Rs 1,234 |
| Split Seat Kit (Black Colored) | Rs 3,705 |
| Split Seat Kit (Brown Colored) | Rs 3,705 |
| Pannier luggage system | Rs 4,199 |
| Parani M-10 Bluetooth Setup | Rs 6,000 |
Honda Hness CB350 – Extended Warranty
Besides these accessories, Honda is also offering three free services, an extended warranty, and roadside assistant on the bike for added peace of mind. Here's the warranty breakup with their prices: –
E.W. Package Purchase Time (from Buying the bike)
0-90 Days
91-550 Days
Warranty Packs
3 + 1 years
3 + 2 years
3 + 3 years
3 + 1 years
3 + 2 years
3+3 years

Additional km

16,000km

28,000km

40,000km

16,000km

28,000km

40,000km

Additional duration

12 months

24 months

36 months

12 months

24 months

36 months

Price

Rs 1,549

Rs 2,799

Rs 3,199

Rs 1,799

Rs 3,199

Rs 3,699
As the above table indicates, Honda is offering three warranty packages along with the standard 3-year/42,000km warranty, which comes free with the bike. With the purchase of an extended warranty package, a customer can get a maximum warranty of 6 years / 82,000 km on the Highness.
It is important to note that if you buy the extended warranty package within three months of the bike purchase, then it will cost you much less than buying it later.
Also Read: Honda H'Ness CB350 Vs Royal Enfield Classic 350: Specifications And Price Comparison
Roadside Assistant
Apar from the extended warranty, buyers can also choose for a year Road Side assistance package for Rs 1,499. This package will help you in case of a breakdown. It covers unlimited towing coverage and free breakdown services along with on-site support for locating hospitals, hotels, or taxis. It will also provide you minor repairs on the spot. However, the fuel supply and puncture repairing services will be chargeable.
Customers can avail of the RSA service in case of an emergency across the country except for Jammu & Kashmir and some eastern states.
Free Services
The Honda Highness CB350 also gets the first three services free of charge. Here are the details of these three services:
| | |
| --- | --- |
| Free Service | Distance / Days from the date of purchase (whichever comes earlier) |
| 1st free service | 750-1,000km or 15-30 days |
| 2nd free service | 5,500-6,000km or 165-180 days |
| 3rd free service | 11,500-12,000km or 350-365 days |
In a bid to the ongoing festive season, Honda is also offering attractive finance schemes on Hness CB350 with benefits up to Rs 43,000. To know more about this, click here.
Honda Hness CB350 First Impression Video