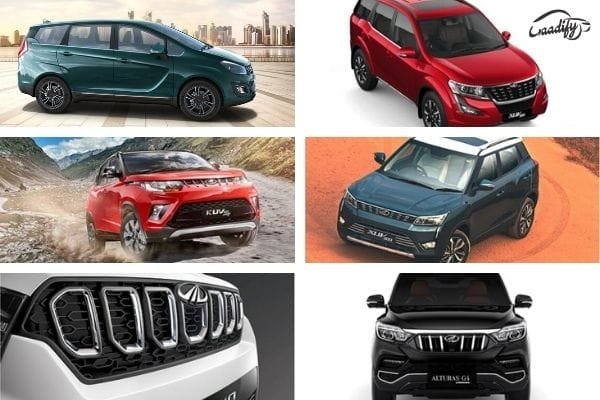 Grab Benefits Of Up To Rs 3.01 Lakh On Mahindra Cars This may
Mahindra has introduced monthly offers for its entire product range except for the second-generation Thar off-roader. Here's a look at the model-wise benefits that you can grab till 31st May 2021: –
Also Read: Mahindra SUVs Got Expensive By Up To Rs 49,000
Models

Cash Discount

Exchange Benefits

Corporate Discount

Other Offers

Total Savings

Up to Rs 38,055

Up to Rs 20,000

Up to Rs 3,000

–

Up to Rs 61,055

XUV300

Up to Rs 10,000

Up to Rs 25,000

Up to Rs 4,500

Accessories worth Rs 5,000

Up to Rs 44,000

Up to Rs 1,500

Up to Rs 10,000

Up to Rs 3,000

–

Up to Rs 14,500

No offers available

Scorpio

–

Up to Rs 15,000

Up to Rs 4,500

Accessories worth Rs 10,360

Up to Rs 29,360

XUV500

Up to Rs 51,600

Up to Rs 25,000

Up to Rs 6,500

Accessories worth Rs 15,000

Up to Rs 98,100

Marazzo

Up to Rs 20,000

Up to Rs 15,000

Up to Rs 5,200

–

Up to Rs 40,200

Up to Rs 2.20 lakh

Up to Rs 50,000

Up to Rs 11,500

Accessories worth Rs 20,000

Up to Rs 3.01 lakh
Like all the previous months, the Mahindra Alturas G4 continues to be available with the highest discounts, followed by XUV500 and KUV100 NXT.
It is a good time for the potential buyers looking for XUV500 as it will be soon replaced by the new XUV700 in the Indian market. Click here for more details.
All the Mahindra SUVs are available with cash discounts except for the Scorpio.
Mahindra's all-time best seller, Bolero is available with the least savings this May.
Also Read: XUV900 Will Be The First SUV Coupe From Mahindra; Likely To Be Based On XUV Aero Concept
Note: – All the aforementioned offers are only valid in Delhi. However, offer prices in other cities are more or less the same. It is also important to note that the offer amounts may vary depending upon the variant, color selection, and availability of stock. Hence, we request you to contact your nearest Mahindra showroom to get the precise details.