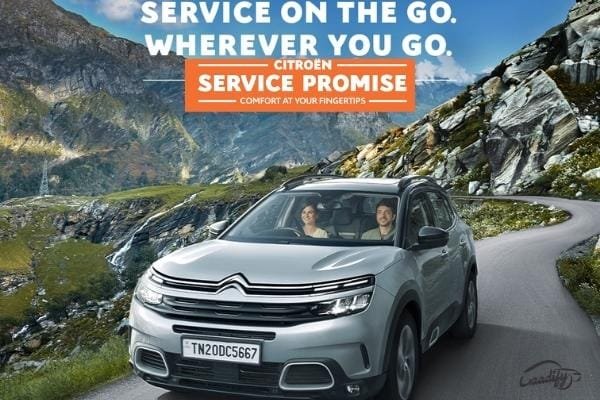 Citroen On The GO: A Unique Way To Get Your Car Serviced At Your Doorstep
French automaker Citroën is widely known for its unique design philosophy and customer-centric approach. And that can be clearly seen from its debut product in India, the C5 Aircross premium mid-size SUV, which offers unmatchable comfort & convenience in the segment. Although the company currently has a physical presence in very limited cities, it is offering a 100 percent direct online purchasing service through its official website with a home delivery facility in over 50 cities across the nation. Besides, the brand also started the 'Citroën Service Promise' program since its market debut to meet all the aftersales requirements of its customers. As part of this initiative, Citroen offers nationwide Roadside Assistance (RSA) through its dealer partners along with doorstep service and repair facilities in 77 major cities of the country through the 'Service on Wheels' facility.
Also Read: Citroen C3 Sub-4m Crossover Unveiled; Launch Expected In Early 2022
This doorstep advantage can be availed through the My Citroën app, available on the App Store and Android Play Store. It offers convenient service and minor repairs at the location of the customer's choice so that they cannot miss out on maintenance. In addition, the app also sends service alerts for your Citroën, and you can also make an appointment online and get a quote for your next service, all at the touch of your finger. Besides, it also offers a pick-up and drop facility of the vehicle from the residence of the customer, provides virtual assistant, and makes sure availability of genuine spare parts in 24 hours, etc so that you don't have to compromise at any point.
These types of facilities also provide convenience to those customers, who are unable to get their vehicles serviced regularly due to scarcity of time or their inability to bring their vehicle to the service centers.
Hyundai, Tata, Maruti Suzuki, and Toyota also provide a similar set of assistance. It won't be wrong to state that these types of services are now a matter of utmost importance for carmakers to enhance their after-sales and service support in the country, especially after the most uncertain times we all have seen in recent months.