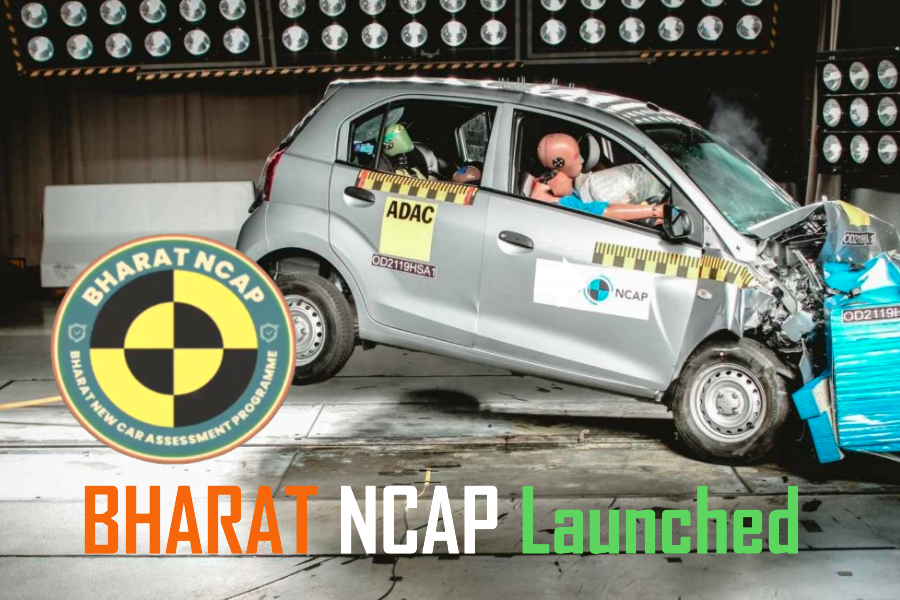 Nitin Gadkari Introduced New BHARAT NCAP Safety Program
In order to increase road safety and make Indian cars safer, Union Minister of Road Transport and Highways (MoRTH) Nitin Gadkari has finally launched the highly-anticipated BHARAT New Car Assessment Programme (Bharat NCAP).
Here are some key parameters of the BHARAT NCAP: –
The govt has amended the Central Motor Vehicle Rules (CMVR 1989) to have provisions for Bharat NCAP.
It has been aligned with the global crash test standards.
This program will commence on 1st October 2023.
Only M1 type of vehicles (passenger vehicles with up to 9 seats) with a gross weight of less than 3.5 tonnes (3500kg) will be crash-tested by Bharat NCAP as per Automotive Industry Standard (AIS)-197.
Car manufacturers will be able to submit their cars for voluntary testing. They shall nominate a vehicle model to get tested for safety star ratings by submitting an application in Form 70-A to the designated agency of the central government.
The BHARAT NCAP representatives shall visit the manufacturing plant/dealer outlet of the OEM to select the base variant of the model through random sampling.
Considering the market feedback and analysis of the vehicle, the Ministry of Road Transport and Highways (MoRTH) can also pick any model for the crash test.
Vehicles shall be crash tested at the testing centre, witnessed by representatives from both OEMs and BHARAT NCAP.
Crash testing will be conducted only on the base variant of any model.
Like the Global NCAP, the Bharat NCAP will also provide a star-based rating from one to five by examining vehicle safety in three broad categories: Adult Occupant Protection (AOP), Child Occupant Protection (COP), and Safety Assist Technologies (SAT).
Crash test results will be compiled and shared with OEMs, followed by BHARAT NCAP standing committee approval.
After standing committee approval, start rating and test results shall be published, and a certificate will be issued by the Central Institute of Road Transport (CIRT).
The star rating will be updated from time to time. And the vehicle's rating will be posted on a portal designated by the agency.
This initiative will also incentive automotive brands to enhance their safety ratings.
BHARAT NCAP – Crash Test Parameters
Bharat NCAP is similar to the Global NCAP.
Under the BHARAT NCAP, vehicles will be crash tested in three areas: – Adult Occupant Protection (AOP), Child Occupant Protection (COP) and Safety Assist Technologies (SAT).
For AOP and COP, an Offset Deformable Barrier Frontal Impact Test, Side Impact Test and Pole Side Impact Test will be conducted.
Under the offset deformable barrier frontal impact, the vehicle is remotely driven at a speed of 64 kmph and a 40% overlap onto a deformable barrier. 
Under the Side Impact Test, a 950 kg trolley impacted the driver's side of the test vehicle at 50 kmph. Cars equipped with side and curtain airbags are expected to perform favourably in this test, resulting in higher scores.
Cars which will achieve 3/4/5 stars in the AOP and COP will be subjected to the Pole Side Impact Test, under which the vehicle will be subjected to lateral collision into a rigid pole at 29kmph to assess the level of protection of the sidewards body and head protection.
Now, let's take a glance at the scoring and the corresponding parameters for star-based ratings.
| | | |
| --- | --- | --- |
| STARS | Minimum AOP | COP Score |
| 5 | 27 | 41 |
| 4 | 22 | 35 |
| 3 | 16 | 27 |
| 2 | 10 | 18 |
| 1 | 4 | 9 |
BHARAT NCAP: Minimum score for star rating
Now, here's a look at the fitment requirements for Qualifying Safety Assist Technologies: –
Electronic Stability Control (ESC) Test: From the base variant, all new cars should be fitted with Electronic Stability Control (ESC). It will be tested via an automated sine-dwell test. Cars without ESC are assured of failing the examination.
Pedestrian Protection: The test model must be fitted with Pedestrian Protection according to AIS100. It guarantees that vehicles are built in adherence to standards that minimise damage in the event of a pedestrian collision. The fitment of active safety features is also significant in this context.