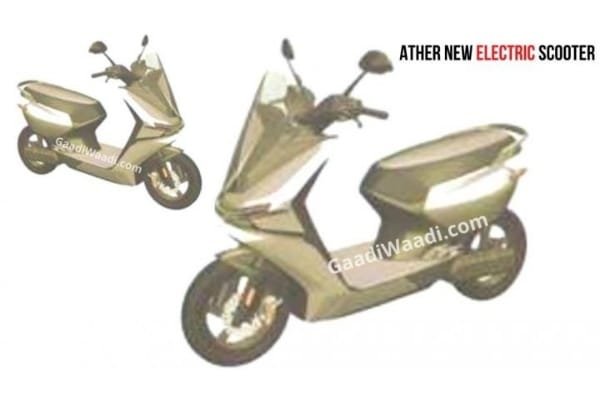 Ather Energy To Launch A Maxi-Styled Electric Scooter, Patent Images Leaked
Ather Energy is aggressively expanding its footprint with more and more dealerships across the country. Recently, the brand has made its entry in the national capital as well as in the capital of Rajasthan (Jaipur). Now, the Bengaluru-based EV start-up is reportedly working on a new product that is likely to be Ather's first maxi-styled electric scooter. Recently, its patent images have been surfaced on the web.
While the exact dimensions of the upcoming Ather scooter are unknown, it seems bigger than the 450X. The design of the scooter looks quite bold yet futuristic with notable elements like a maxi-styled front apron, tall windshield, wide & upright handlebars, wrap-around headlamps, short-front fender, chiseled body works, and a flatter long seat. The image also reveals telescopic forks & a disc brake at the front. It will ride on blacked-out alloy wheels.
This forthcoming zero-emission Ather scooter is likely to be positioned above the Ather 450X with more advanced features, increased riding range, and quick charging capabilities. For reference, the Ather 450X is powered by a 6kW PMSM motor that draws its charge from the 2.9kWh lithium-ion battery and delivers a true range of 85kms on a single charge. It comes with four riding modes – Eco, Ride, Sport, and a new high-performance mode called 'Warp'. In this new mode, the Ather 450X can sprint from 0 to 40kmph in just 3.3 sec.
In terms of features, the 450X comes equipped with a 7-inch colored touchscreen rider's display that gets a 4G SIM card, and Bluetooth connectivity that allows the riders to manage phone calls and music on the go. It also gets features like Google map navigation, on-board diagnostics, over-the-air update support, auto indicator off, and guide-me-home lights.
The new model could get a more powerful electric motor & a larger battery pack. With this, it will make an exciting proposition on its arrival.