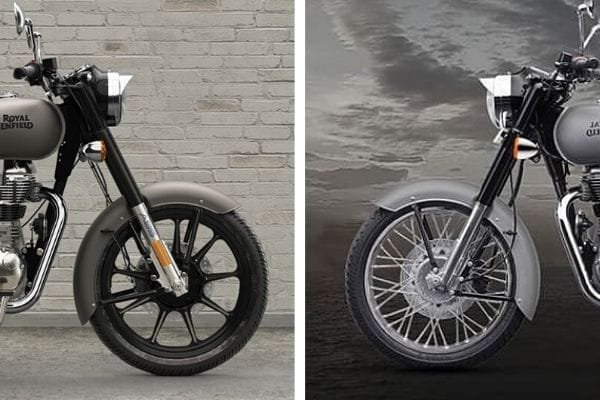 Alloy Wheels Vs Spokes Wheels On Bikes
This comparison may come across as a frivolous attempt to mock the older technology by hurling words in praise of what's more attractive in this case. But I'll have to stop you then and there and still consider that what is it about spokes that makes them the obvious choice for even some of the motorcycles like the Triumph Tiger and other touring and adventure motorcycles in the market. And this is evident almost all segments, the Avenger Cruise was offered with spokes as well, unlike its sibling street.
Alloys are a homogeneous mixture of two metals, for wheels, the mixture consists of Aluminium and Magnesium which can be given shape with ease thus giving design opportunities. With spokes the tyre goes on the wheel which has thin spokes in a definite pattern, running from the wheel rim to the center.
Facts On Alloy Vs Spokes Wheels

Design
This is where we cannot really talk about competition or comparison. This is the major USP for alloy wheels. They can be given different shapes quite easily as per the companies requirement, to keep up with the design language or the character of their product. If none, it does depart a unique identity to the product. Today in mainstream markets, even in the budget segment, companies have come up with different designs for wheels on each of their product. That is the biggest strength of alloy wheels.
Rigidity
Alloy wheels have considerably less moving parts they are pretty much one unit as a body so there is not a lot of scope of intrusive movement with testing surfaces. On one hand, rigidity may seem analogous to strength but that is not really true.
Rigidity causes strain inside the wheels on sudden impacts which can commonly be encountered on rough patches and higher speeds just increase the magnitude. In such situations, alloy wheels may collapse if they reach the threshold of the strain that they could handle. This situation is less likely with spoke wheels.
The spoke wheels have various levels of cushioning before the impact finally reaches the suspension. Tyre acts the first absorber, then the force is taken on by the rim and then each spoke acts as an absorber and then the damped impulse reaches the suspension. This is precisely the reason why spokes are preferred for adventure tourers and off-road motorcycles.
Tubeless friendliness
Alloy wheels and tubeless tires go in-hand, they share a pretty similarity in their development timelines and their availability in the market in different segments. The alloy wheels can be paired with tubeless tires very easily and that is mostly observed as well wit most of the products available in the market. This becomes difficult with the spoked wheels design and some adjustments are required to be made if you want a tubeless tire which is of course very convenient especially in an urban setting.
Miscellaneous factors
The other factors which come into play are weight, with alloy wheels shedding off some extra kilos from your motorcycle. And also alloy wheels are easier to clean because of a simpler design and open spaces.
The better designing of Alloy wheels also means easier maintenance. Another important factor in repair and in this case spoke wheels are better, because they bend on impact and such bends can easily be removed but with alloy wheels, there is usually a fracture, the wheels break off, and then they have to be replaced. At last spoke wheels are cheaper as well so you can save some extra money with extra mechanical advantages at play.