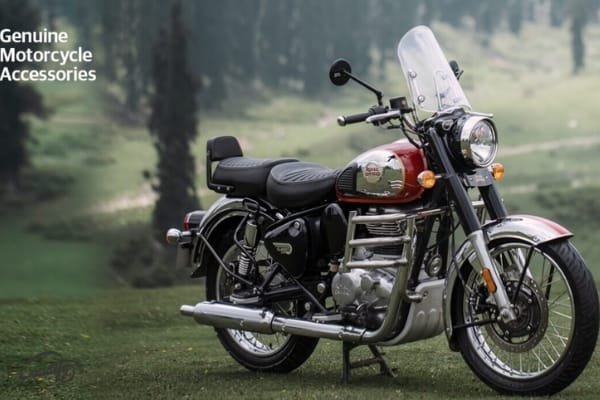 2021 Royal Enfield Classic 350: Accessories List Revealed
The 2021 Royal Enfield Classic 350 has finally been launched in India. It has received tons of upgrades that make it a more mature product than the previous model. But if that is not enough for you, the Chennai-based bikemaker has also introduced its wide range of official accessories dedicated to the all-new Classic 350. Here're the details: – 
1). Protection Accessories
Engine Guard 
Price Range: – Rs 2900 to Rs 4250
The Royal Enfield is offering as many as eight different engine guard options that will protect your bike's heart in the case of collision. All these units come with 3-three years of warranty. 
Sump Guard
Price: – Rs 2750
For added protection of the engine as well as frame tubes on rough terrains, the brand is also offering a silver brushed sump guard. It is essentially a pressed heavy-duty alloy plate that shelters the engine and frame tubes from debris off the front tire or through bottoming out whilst dropping off edges.
2). Ergonomics Related Accessories
Deluxe Footpegs
Price: – Rs 2,500
If you are the one who loves to travel for miles on a two-wheeled machine, these forged aluminium footpegs could be a beneficial accessory for you. It comes with large footprints and rubber inserts that not only provide better comfort & gripe but also reduce vibrations. The brand is offering the footpegs in black and silver color options. It also comes with 3 years of warranty.
Low Ride Seat
Price: – Rs 2,500
If you're a short-height rider and the stock 805mm saddle seat is tall for you, you can opt for a lower ride seat that offers an 11mm reduction in seat height. RE claims that the low-ride seat use 3D net technology to equally distribute weight for enhanced comfort over long rides.
Touring Rider & Passenger seats
Price: Rs 2950 (pillion), Rs 3750 (rider) 
To ensure optimum comfort during your long rides, the brand is also offering touring rider and passenger seats that come with dual-density foam. These are available in black and brown color choices. 
Rider Seat Springs
Price: – Rs 1150
Unlike the previous-gen model, the new Classic 350 doesn't come with a rider seat spring. So if you want that vintage look again along with added comfort, then this rider spring seat kit is for you. 
Pillion Seat Backrest and Mounting 
Price: – Rs 950 (backrest), Rs 1600 (mounting)
Available in black and brown color options, the backrest is meant to increase the lumbar support of the passenger on long trips. To mount these pads, buyers would be required to buy a pair of cast-aluminium mounts that will additionally cost Rs 1,600. These backrest arms are powder coated for durability.
Touring Screen / Windshield
Price: – Rs 3950
To make your touring experience less tiring and increase wind protection, the Royal Enfield is offering a scratch-resistant touring screen that comes with an integrated stainless steel mounting kit. 
3). Travel Accessories
Rear Rack
Price:- Rs 2750
Made from a 16mm black-powder coated steel tube, it mounts behind the passenger seat. It can be used to strap or mount your luggage bag. It also includes an integrated grab handle for the passenger.
Commuter Pannier and Rail
Price:- Rs 1800 (rail), Rs 1950 (pannier), Rs 1150 (waterproof liner)
If you need storage space for your moderate commute, Royal Enfield has come up with a 12.5-liter capacity pannier. To mount this pannier, a black-colored stainless steel rail is also on the list. It is important to note that this pannier is not waterproof. However, you can have the waterproof liner that will set back to you Rs 1150. 
4). Cosmetical/Athetical Accessories
These are as follows: – 
Aluminium Alloy Wheels (available in two different style options – Rs 12,500
Stainless Steel Aero Viser (silver and black color option) – Rs 850
Pleated Seat Covers (black and brown color option) – Rs 1,000
Black Bar End Mirrors – Rs 5800 + Rs 550 for mounts
Black Touring Mirrors – Rs 6250
All-New Royal Enfield Classic 350 Video Review: –