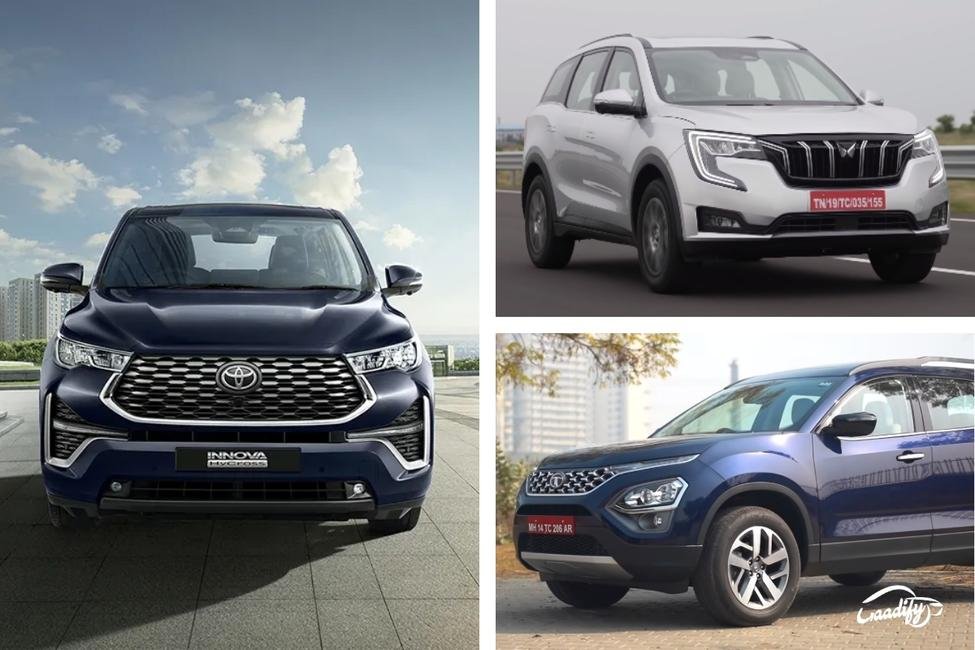 Toyota Innova Hycross vs Mahindra XUV700 vs Tata Safari – Price Check
Toyota India has finally launched the third-gen Innova MPV in India. Dubbed the "Toyota Innova Hycross", the new MPV ranges between Rs 18.30 lakh and Rs 28.97 lakh (ex-showroom), thus positioning it against some popular mid-size SUVs like Mahindra XUV700 and Tata Safari. So here we've compared people mover's prices with those of the above-mentioned SUVs to see how it fares against them: –
Note: Considering that Toyota Innova Hycross come only with automatic transmissions, we have only taken into account the automatic trims of these SUVs.
Toyota Innova Hycross
Mahindra XUV700
(7-seater variants only)
Tata Safari
G – Rs 18.30 lakh
AX5 (Diesel): Rs 19.84 lakh
XMA: Rs 18.20 lakh
G 8-seater – Rs 18.35 lakh
AX7 (Petrol): Rs 21.19 lakh
XMA S: Rs 19.36 lakh
GX – Rs 19.15 lakh
AX7 (Diesel): Rs 21.84 lakh
XTA+: Rs 20.53 lakh
GX 8-seater – Rs 19.20 lakh
AX7 L (Petrol): Rs 23.10 lakh
XZA: Rs 21.43 lakh
VX Strong-hybrid – Rs 24.01 lakh
AX7 AWD (Diesel): Rs 23.24 lakh
XZA+: Rs 22.55 lakh
VX Strong-hybrid 8-seater – Rs 24.06 lakh
AX7 L (Diesel): Rs 23.70 lakh
XZA+ 6-seater: Rs 22.65 lakh
ZX Strong-hybrid – Rs 28.33 lakh
AX7 AWD L (Diesel): Rs 24.95 lakh
–
ZX (O) Strong-hybrid – Rs 28.97 lakh
–
–
Toyota Innova Hycross vs Mahindra XUV700 vs Tata Safari – Price Comparison
Also Read: Toyota Innova Hycross Vs Kia Carnival: Price Comparison
The entry-level G variant of the Toyota Innova Hycross is only available for fleet operators.
Starting price of the Tata Safari diesel-automatic undercuts the Mahindra XUV700 and Toyota Innova Hycross.
All standard automatic variants of the Tata Safari are cheaper than the Toyota Innova Hycross's strong-hybrid range, which starts at Rs 24.01 lakh.
The range-topping AX7 Luxury All-Wheel-Drive (AWD) automatic-diesel variant of the Mahindra XUV700 is around Rs 4.02 lakh more affordable than the Innova Hycross's ZX (O) strong-hybrid trim.
Toyota Innova Hycross comes with a 2.0-litre naturally aspirated petrol engine, along with the choice of a strong-hybrid powertrain. Mahindra XUV700, however, gets 2.2-litre turbocharged petrol and 2.0-litre turbocharged diesel engines. On the other hand, the Tata Safari only gets a 2.0-litre turbocharged diesel unit.
All three offerings are monocoque chassis-based front-wheel-drive offerings; however, Mahindra XUV700 is the only one with a choice of all-wheel drivetrain (AWD).