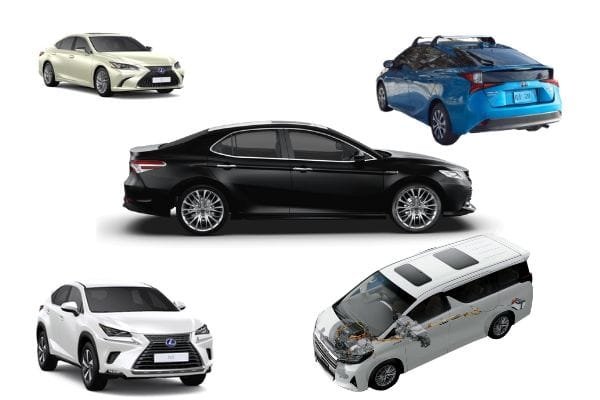 These are Top 5 hybrid cars on sale in India
The exponential increase in the usage of automobiles over the years has meant that the environment has taken a bad hit. The list to the repercussions the environment has had due to use of conventional fuel is lengthy.
Ozone layer depletion, Increased carbon emissions, Greenhouse effect or even air pollution for that matter, The toll that the environment has taken suggest that renewable sustainable energy sources are the need of the hour.
Electric cars are thus the latest talk of the automobile world, They are clean, feature-loaded and also practical, add to which quick developments, the visionaries eye it as a fuel that can serve mankind for long times.
Owning electric vehicles as this point in time in developing countries like India doesn't come easy, due to limited range, constraint purchasing power and public charging infrastructure.
That is where hybrids become important. They do not rely solely on the electric motor and have options of conventional fuel intake to assist electric technology, which means increased ranges and also significantly lower emissions.
Today we shall talk about the top 5 hybrid cars on sale in India at the moment-
Toyota Prius
It would be a crime to exclude the global flag-bearer of hybrids, it was launched about a couple of decades back and at that point, it was the only hybrid car available in the market.
With more than 3.5 million units sold globally, this car has a rich legacy and with the latest upgrade, Toyota has also managed to address the buyer's concern of sloppy drive and bland looks.
Some prominent features include a heads-up display, heated front seats, wireless charging bay and a 7-inch infotainment system that shows the real-time source of propulsions.
The Prius hybrid is powered by a 1.8L petrol engine producing a power equivalent of 98 Horses. It is assisted by a 72 HP electric motors that draw power from 6.5 Ah Nickel-metal hydride battery, The combined petrol-hybrid produces 122 HP.
It boasts of great ARAI claimed fuel efficiency of 26.27 kmpl. It's only trim the Z8 is priced at Rs. 45.11 Lakhs
Toyota Camry
Another Toyota car with an iconic past and great sales number, The hybrid sibling of the popular executive sedan with the latest update looks sharper and eye-catching than ever.
A sharply sculpted bumper at the front, stylish 18-inch alloys and lip spoiler at the rear look very good.
It comes feature loaded right up to the top with brilliant inclusions like nine airbags, paddle shifters, heads-up display, three-zone climate control and a 9-speaker JBL music system to list a few.
Under the hood it gets a 2.5L four-cylinder petrol engine that produces a great power output equivalent to 176 Horses, it is also assisted by an electric motor that combined with the primary petrol churning out an equivalent figure of 220 HP.
It returns ARAI certified fuel economy figures of 19.16 kmpl. The only trim that is on sale Hybrid 2.5 is priced at Rs 37.88 Lakhs.
Toyota Vellfire
Another Toyota offering, Vellfire is literally luxury on wheels, the car provides all the comfort that a car owner can desire, it literally has a business class like seats and tons of legroom and headroom.
The car looks stylish upfront and the rather plain designs on the side profile are well complemented by shark-fin inspired B pillar. One of the biggest pluses is a large window area that would give a breezy airy feeling and sense of all the space in the world.
The practicality with which seating positions can be configured, heated second and third row of seats and the memory functions for seating positions are some of the features not even the most expensive cars offer.
The rear-seat entertainment package is also a coveted addition with all the controls with rear passengers and a 13-inch drop-down screen.
It gets a 2.5L Petrol engine that produces a maximum combined power output of 196 HP. While the front axle is powered by an 87 HP motor, the rear electric assisting motor sits on either side and produces power figures of 105 kW and 50 kW.
Lexus ES 300h
Toyota's sister concern, Lexus has also been top-notch making its presence felt in the Indian market. The 300h is one of the most successful cars from the Japanese Auto-giant.
It is edgy and has a striking design that will definitely not go unnoticed. Triple beam headlights in the front and a cleanly laid out rear design along with wide taillights.
Since it is priced handsomely and Lexus is a brand that has the reputation of packing in a lot of goodies the ES 330h gets 17 speaker sound system, heads-up display.
One should also not forget the smart inclusions like AC and media controls on the rear hand rest and front seat adjustment options on the headrest.
The ES 330h gets a naturally aspirated 2.5L petrol engine that produces 178 HP and gets assistance from 120 HP electric motors. These two engines produce a combined output of 214.56 HP.
It has ARAI claimed fuel figures of 22.37 kmpl and is priced between Rs. 51.9 Lakhs and Rs. 56.95 Lakhs
Lexus NX
The only SUV on the list, NX locks horns against popular cars like Mercedes Benz GLC and Range Rover Evoque and the fact that helps its cause that it is the only hybrid vehicle in its segment.
The NX looks absolutely stunning, the key highlight being the stand-out spindle grille right up at the front. The rear though much plain than front still looks good, thanks to wraparound taillamps.
As far as features are considered, it gets a rich Mark Levinson 14 speaker-sound system, it also gets a 360-degree camera support feature and a colourful heads up display and it also gets important safety features like eight airbags, hill assist control and vehicle stability control.
It shares the same 2.5L four-cylinder petrol engine that produces a total power of 190 PS, including 142 HP from the front petrol motor and 67HP from the rear electric motor.
NX has ARAI claimed fuel efficiency figures of 18.32 kmpl. It is priced between Rs. 54.9 Lakhs and Rs. 60.6 Lakhs.