Royal Enfield Scram 411 Accessory List Revealed
The highly awaited Royal Enfield Scram 411 motorcycle finally went on sale yesterday. With this, the bikemaker has also launched an extensive range of official accessories dedicated to the new scrambler, some of which sweeten the aesthetics, offer protection, and increase its practicality. Here's what Royal Enfield has on offer: –
Royal Enfield Scram 411 Accessories: –
1. Adventure Handguard
Price: Rs 2,550
Colour: Black
Made of aluminium and fiber-reinforced nylon, the adventure handguard prevents fatigue while riding against the wind. They also protect the levers in case of a fall.
2. Compact Engine Guard
Available in a powered coated black finish, the engine guard will protect your bike's heart in the case of collision.
3. Large Engine Guard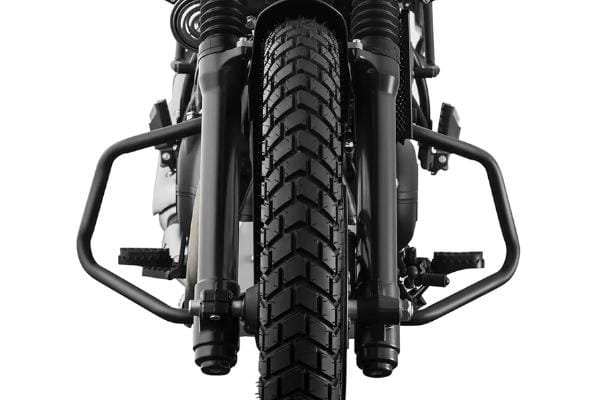 Made with 22mm mild steel tube, it provides an optimum balance of protection and style.
4. Master Cylinder Guard
Price: 700
Colour: Black, Silver.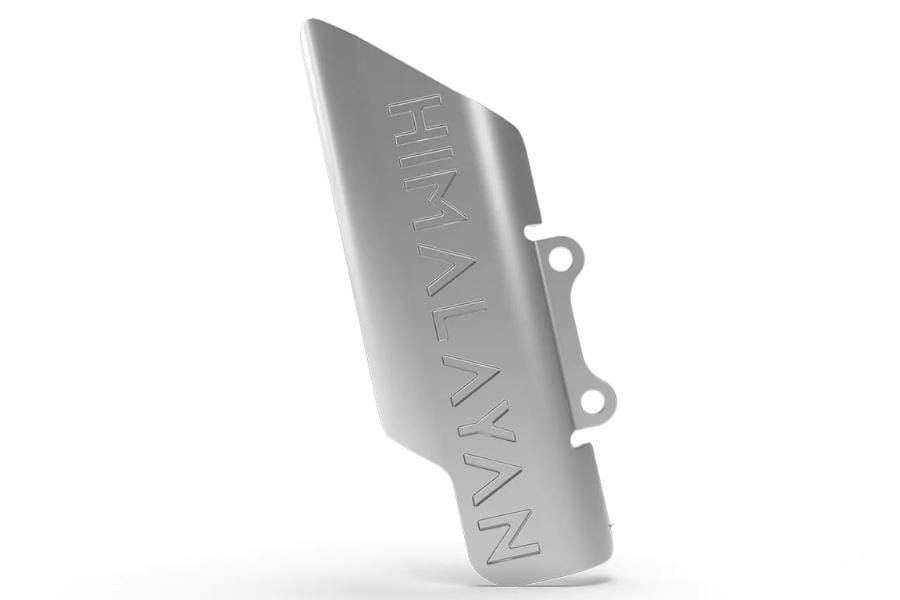 It is constructed using a pressed aluminum plate with an anodized finish for enhanced durability and impact protection.
5. Oil Cooler Guard
Price: 1250
Colour: Black, Silver.
Stones, debris, and whatnot do the oil cooler has to combat while riding. And so to protect it while maintaining vital radiator airflow, the brand has offered an oil cooler guard for the Scram 411.
6. Adventure Handlebar and Brace Pad 
Price: 3550 (handlebar), Rs 600 (brace pad)
Colour: Black, Silver.
Well-suited aluminium handlebars for those who want a distinct macho appearance and stance. Its looks can further be enhanced with a brace pad that comes with an embossed Royal Enfield logo.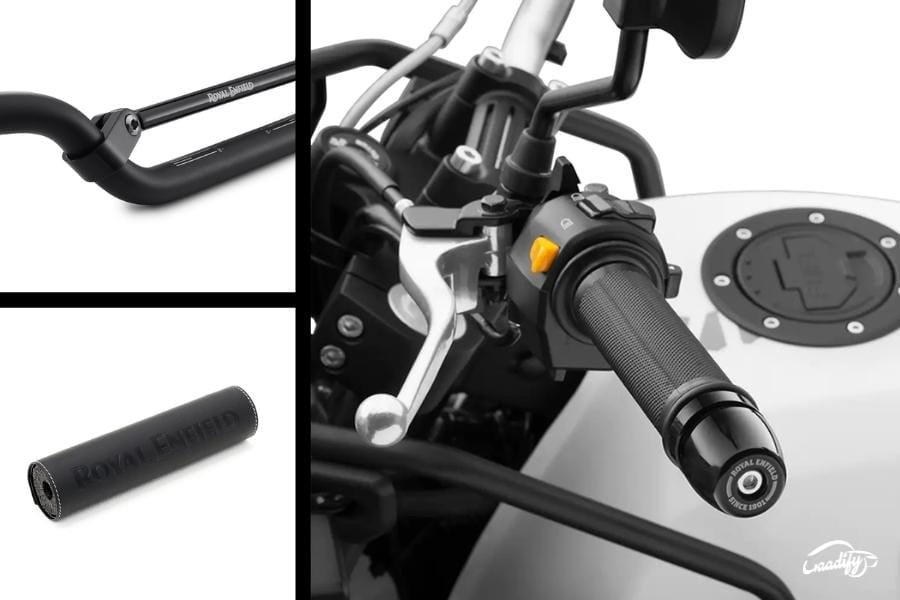 7. Bar End Finishers
Price: Rs 1200
Colour: Black
Specially designed for accessorized aluminium handlebars, this adds a sporty touch to the bike.
8. Front Reservoir Cap
Price: Rs 800
Colour: Black, Silver.
Royal Enfield has an elegant-looking machined reservoir cap on offer in black and silver colors.
9. Water Resistant Cover
Price: Rs 1,100
Colour: Black, Navi Blue.
This water-resistant nylon cover will protect your bike from direct sunlight and rain when not in use.
10. Oil Filler Cap
Price: Rs 1,100
Colour: Silver, Black.
This beautifully machined billet aluminium oil filler cap will increase the premium quotient of your bike.
Royal Enfield Scram 411 Review: –