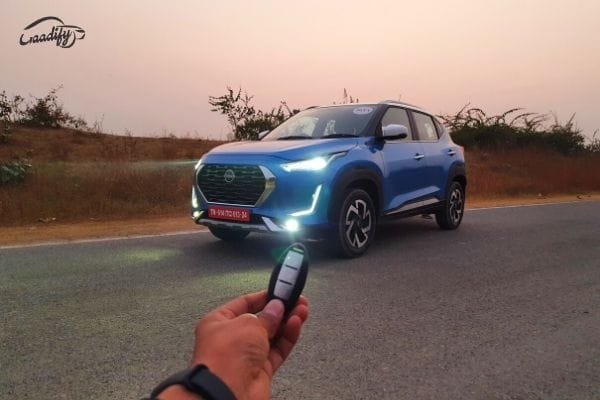 Nissan Magnite Gets A Price Hike Of Up To Rs 17,000
Nissan India has once again increased the prices of the Magnite sub-4m SUV. While the brand hasn't shared the reason for the price hike, this is the fourth time when the Japanese automaker has revised its asking rates since its launch in December 2020. Here's take a look at the new ex-showroom prices of the Nissan Magnite: –
Nissan Magnite 1.0-litre naturally-aspirated petrol variants: –
| | | | |
| --- | --- | --- | --- |
| NA Variant | Old Price | Revised Price | Variation |
| XE | Rs 5.59 lakh | Rs 5.71 lakh | Rs 12,000 |
| XL | Rs 6.32 lakh | Rs 6.47 lakh | Rs 15,000 |
| XV | Rs 6.99 lakh | Rs 7.05 lakh | Rs 6,000 |
| XV Dual-Tone | Rs 7.15 lakh | Rs 7.21 lakh | Rs 6,000 |
| XV Premium | Rs 7.68 lakh | Rs 7.85 lakh | Rs 17,000 |
| XV Premium Dual-Tone | Rs 7.84 lakh | Rs 8.01 lakh | Rs 17,000 |
Nissan Magnite 1.0-litre turbocharged petrol variants: –
| | | | |
| --- | --- | --- | --- |
| Turbocharged Variant | Old Price | Revised Price | Variation |
| XL | Rs 7.49 lakh | Rs 7.62 lakh | Rs 13,000 |
| XV | Rs 8.09 lakh | Rs 8.20 lakh | Rs 17,000 |
| XV Dual-Tone | Rs 8.25 lakh | Rs 8.36 lakh | Rs 11,000 |
| XV Premium | Rs 8.89 lakh | Rs 9 lakh | Rs 11,000 |
| XV Premium Dual-Tone | Rs 9.05 lakh | Rs 9.16 lakh | Rs 11,000 |
| XV Premium (O) | Rs 8.99 lakh | Rs 9.10 lakh | Rs 11,000 |
| XV Premium (O) Dual-Tone | Rs 9.15 lakh | Rs 9.26 lakh | Rs 11,000 |
| XL CVT | Rs 8.39 lakh | Rs 8.51 lakh | Rs 12,000 |
| XV CVT | Rs 8.99 lakh | Rs 9.09 lakh | Rs 10,000 |
| XV CVT Dual-Tone | Rs 9.15 lakh | Rs 9.26 lakh | Rs 11,000 |
| XV Premium CVT | Rs 9.74 lakh | Rs 9.89 lakh | Rs 15,000 |
| XV Premium CVT Dual-Tone | Rs 9.90 lakh | Rs 10.05 lakh | Rs 15,000 |
| XV Premium CVT (O) | Rs 9.84 lakh | Rs 9.99 lakh | Rs 15,000 |
| XV Premium CVT (O) Dual-Tone | Rs 10 lakh | Rs 10.15 lakh | Rs 15,000 |
All prices ex-showroom Delhi.
The Magnite is now pricier by as much as Rs 17,000. With this, it now costs between Rs 5.71 lakh to Rs 10.15 lakh (ex-showroom Delhi), whereas it was ranged from Rs 4.99 lakh to Rs 9.59 lakh at the time of launch. That means, the Magnite is now up to Rs 72,000 more expensive than its launch price. However, it is still the second most affordable SUV of its class after the Renault Kiger (Rs 5.64 – 10.09 lakh).
Nissan Magnite is a petrol-only offering that comes with two engine options: a 1.0-litre naturally aspirated (72PS/96Nm) and a 1.0-litre turbo-petrol (100PS/160Nm). While both mills come paired with a 5-speed manual transmission, the latter also gets an optional CVT automatic gearbox.
With competitive pricing and a plethora of premium features, the Magnite has a warm presence in the hotly contested segment that features the likes of Hyundai Venue, Maruti Vitara Brezza, Kia Sonet, Tata Nexon, Renault Kiger, Mahindra XUV300, and Honda WR-V.
Nissan Magnite Non-Turbo Petrol Model Review: –