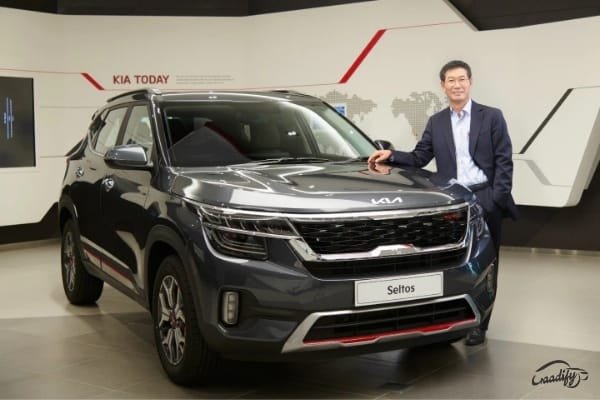 Kia India Introduced New Logo; Updated Sonet And Seltos Will Launch Next Month
Kia Motors India has reintroduced itself as Kia India, which is in line with its global plans. The brand has also unveiled the 2021 Kia Seltos that will be launched in May 2021 along with an updated Sonet. The brand has also announced its next product for the Indian market and reveals its new brand logo, which debuted globally in January 2021. All Kia products will come with this new logo from the next month.
Also Read: Top 10 Cars To Be Launched Or Unveiled In April 2021 – 6 SUVs, 2 Sedans, 1 MPV, And 1 Pickup Truck
2021 Kia Seltos revealed
As mentioned above, Kia India has announced that the updated Seltos and Sonet SUVs will be launched in May 2021. Earlier the brand was expected to launch them today, but now the launch has been suspended, possibly due to the rising COVID-19 cases in the country.
While the brand is yet to take the wraps off from the upgraded Sonet, the 2021 Kia Seltos has been revealed to some extent. The compact SUV now wears Kia's new logo and gets additional features such as paddle shifters and an updated infotainment system that adds new voice commands. There is also a new iMT (intelligent manual transmission) option with the 1.5-liter naturally aspirated (115PS/144Nm) petrol variants.
Besides, the Seltos SUV will also get some more features that will be revealed in the first week of May. The brand will also reveal the updated Kia Sonet sub-compact SUV at the same time. It is likely to undergo variant revision along with the addition of some new features.
Upcoming Kia product announced
With the reintroduction of Kia India, the Korean carmaker has also confirmed that it will enter into an all-new segment in early 2022. While the details regarding the new product are scarce at the moment, it is likely to be a 7-seater utility vehicle.
Apart from this, Kia India has also announced to increase its dealership network in the country to 360 by the end of 2021. Under this initiative, the brand will mark its entry into the tier III and tier IV cities, covering a total of 218 Indian cities. The brand will also boost the production at its Anantapur, Andhra Pradesh-based manufacturing facility with a new shift. It is presumed that Kia will increase its export of its various models including the upcoming Kia MPV to select Asian markets.