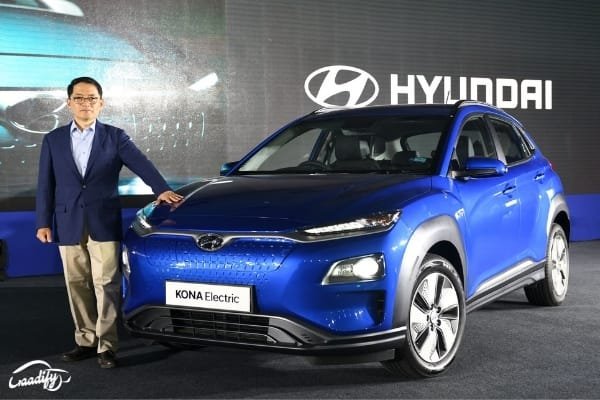 Hyundai Supports Tesla For Lower Import Duties On Electric Vehicles
Earlier this week, we have reported about Tesla's decision to start local manufacturing in India if it finds success with imported vehicles. And so, the American EV maker has demanded a significant reduction in import duties on electric vehicles. And now, Hyundai's Managing Director and CEO, S S Kim, has backed up Tesla's call, saying that lower import duties will help grow the EV market in India.
Also Read: Hyundai Showcased Ioniq 5 Electric Crossover And NEXO FCEV In India
S S Kim told PTI that – "We have heard that Tesla is seeking some duty cuts on imports of CBUs. So, that would be very helpful for the OEMs to reach some economy of scale in this very price competitive segment." Kim further added, "It will take manufacturers time to localize EVs by 100 percent. We are developing made-in-India affordable mass-market EVs but at the same time, if the government allows some reduction in the duty on imported CBUs, that would be very helpful for all of us to create some market demand and reach some scale. Also, not only reduction in duties but more investment in charging infrastructure from the government would be critical for the future of the EV market in the country. The customer is most concerned about the range and charging options. In this regard, we need some very strong support from the government.
However, Ola Electric CEO Bhavish Aggarwal said that he strongly disagrees with Tesla and Hyundai, who are urging lower import duty for electric vehicles in India. He emphasized on indigenous production of electric mobility options.
As we have reported earlier, the import duties on cars priced below $40,000 are 60%, and it is 100% for cars priced above $40,000, which causes their retail prices to explode significantly. Now, understand it by an example, if a car costs $41,000 in the USA, the same would cost over $82,000 as a fully-built import in India with the existing tax rates. However, the asking rates also depend on factors such as powertrain, insurance, and transportation.
Also Read: First Maruti Suzuki EV Will Launch By FY 2025
Now, many of you would argue that the central, as well as several state governments, are currently offering various tax benefits, exemptions, and incentives on electric four-wheelers. But, it is important to note that most of those benefits are only applicable on vehicles with ex-factory prices of up to Rs 15 lakh. That said, currently, only Tata Nexon EV, Tigor EV, and XPRES-T EV are getting subsidies under various government policies. And we all know that their range isn't good enough for the inter-city commute.
We need governments to revise the eligibility criteria for EV subsidy and companies to make long-range electric vehicles more affordable.