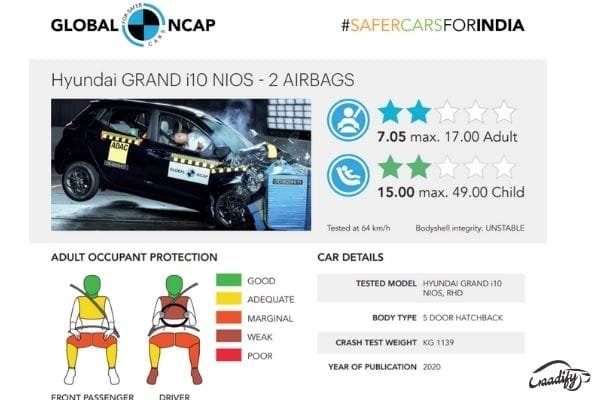 Hyundai Grand i10 NIOS Performed Very Poorly In Global NCAP Crash Test
Apart from the Maruti Suzuki S-Presso and Kia Seltos, the Global NCAP has also crash-tested the made-in-India Hyundai Grand i10 Nios, and it performed quite poorly. It has received only 2-stars for both adult occupant and child occupant safety.
The trim used for the test by Global NCAP was having dual-front airbags and seat-belt pretensioners for front occupants, which comes standard across all the variants along with some other safety features. It scored 7.05 points out of 17 points for adult occupants protection (AOP), and 15 out of 49 points for child occupants protection (COP).
According to the test report, its body shell and footwell area was rated as unstable. The head and neck protection for driver and passenger was rated as good. However, the chest protection for the front passenger was adequate & for the driver, it was inefficient. Driver's and passenger's knees noted marginal safety, whereas the driver's tibias showed marginal to adequate protection, and passenger's tibias showed adequate protection.
The Grand i10 Nios doesn't offer ISOFIX child seat anchorages, hence the child seats were installed in the car with the help of adult seatbelts. And that's the reason why it has scored a bad rating for COP. The NCAP reported that there was an excessive forward movement of the 3-year old front-facing child seat during the impact, and it offered poor protection to the head & adequate protection to the chest. However, the 18-month-old child's dummy (rearward facing) showed good protection for the head & fair protection for the chest.
Author's Take
When compared to Hyundai Nios's rival, Maruti Swift had also received a 2-star safety rating for both adult & child protection when it was tested back in 2018. It's quite disappointing that even after the safety norms have been implemented, the brands are not taking their customer's protection seriously. It's good that some of the safety features have become mandatory in India, but there is still a lot of room for improvement. The vehicles must be crash-tested before the launch because there should be no place for any kind of laxity in the matter of safety.