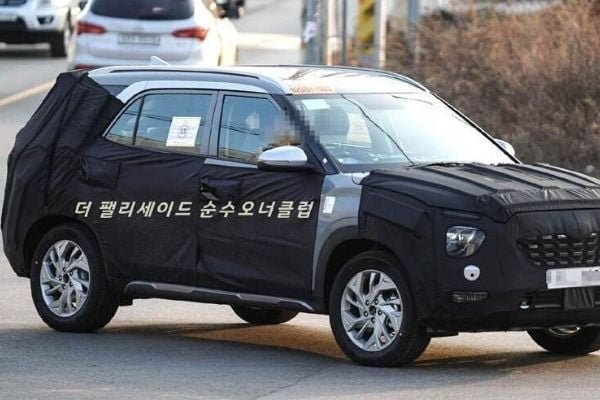 7 seater Hyundai Creta is in line-up?
The love and popularity that Creta has managed to gain over time, is justified by the fact that it has served lakhs of happy customers. It is a product that deserves all the attention it grabs. Now, The Korean maker is working on a 7 seater version of Creta. Recently, it has been spied testing in South Korea. The covered vehicle very evidently houses three rows and shares the design attitude of its legendary sibling.
Photo Credit: Hyundai Palisade Club
7 Seater Hyundai Creta: About the vehicle
The vehicle houses a similar design dimension as seen on Hyundai's sibling Kia's Carnival, giving it a length of about 4300mm and a wheelbase of nearly 2600mm. Its height though seems a bit greater adding to the balanced design appeal. Under the hood, the most natural bet seems the ongoing 1.5L naturally aspirated petrol, 1.4L turbocharged petrol, 1.5L turbocharged diesel engine.
The vehicle flaunts 17-inch clean silver alloy wheels like the Creta. The vehicle seems to have similar head and tail lights as the facelift of its younger sister, but more accommodating with broader design and big vehicle appeal. It could price anywhere between 14-20 lakhs, which we predict because of its design language similar to the flagship, Kia boasts of in India.
The expectations (Author's take)
The hype can be a natural expectation considering the success of the sibling vehicle. But this segment is kind of grey and superstitiously cursed, especially in India (Datsun's Go & Go+, TUV 300 & TUV 300+, Harrier, and Gravitas). The factors behind this are not entirely coincidental. It is the dilemma that companies face between striking a balance between upgradations and cost. In such a case the major demand of customers is owning a more accommodating vehicle at a lower price.
The vehicles in this segment are already associated with, so to say, an inferior product (TUV 300+ sounded more like the inferior TUV 300). So customers already do not wish to pay higher thus cost already faces a setback and the resulting products always seem imbalanced and become worthless if placed in a higher price segment and devastatingly inferior, in case of less pricing. Thus, what Hyundai really needs to nail is the price and compensate for the hype the Creta will see, quite expectedly.