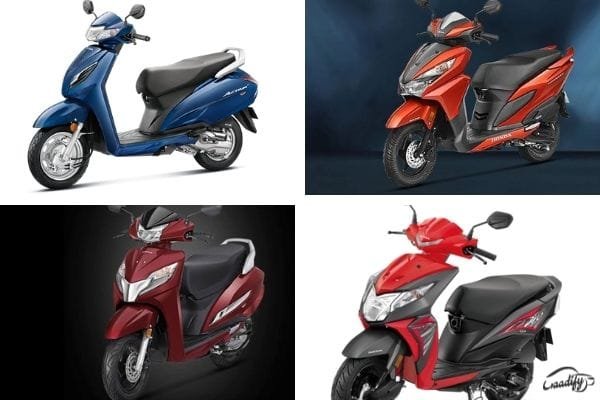 Get Ready To Pay More For Honda Scooters – Activa 6G, Activa 125, Dio, And Grazia
Honda Motorcycle and Scooter India Private Limited have announced revised pricing for its entire scooter range, including the best seller Activa 6G, which is now priced between Rs 67,843 and Rs 71,089 (ex-showroom Delhi). The price increase is due to a rise in input manufacturing costs.
Here's the updated price list of all Honda scooters: –
Honda Scooters

Latest Price

Old Price

Difference

Honda Dio

STD: Rs 62,229
DLX: Rs 65,627
Repsol Edition: Rs 68,127

Rs 1,044

Honda Activa 6G

STD: Rs 66,799
DLX: Rs 68,544
20th Anniversary Edition (STD/DLX): Rs 68,299/Rs 70,044

Rs 1,045

STD: Rs 71,674
Alloy: Rs 75,242
DLX: Rs 78,797

STD: Rs 70,629
Alloy: Rs 74,198
DLX: Rs 77,752

Rs 1,045

Drum: Rs 74,815
Disc: Rs 82,140
Sports Edition: Rs 83,140

Rs 1,045
As the above table indicates, the asking rates of all Honda scooters have been increased uniformly by Rs 1045. Though it's the second price hike for this year, the upside is that the increments aren't too high. Importantly, this hike does not attract any kind of cosmetical, mechanical, or feature changes to any of these models.